U.S.: The Fed Needs To Do A Little More Fiddling
But the housing boom gives it fewer options this time around
Now that the Federal Reserve has lifted short-term interest rates for the ninth time in a year, the main debate remains whether policymakers are in the ninth inning or have yet to reach the seventh-inning stretch. With the federal funds rate at 3.25%, many economists expect the Fed to hike three more times before it pauses to see how the economy is performing. But right now, short-term rates are having less of an effect on economic growth. And the Fed may find it has fewer sectors to target if it needs to rein in the expansion's momentum.
In the past, Fed rate hikes triggered a series of events. Banks, faced with a higher cost of funds, became pickier about borrowers, while the bond market, taking a cue from the Fed, forced up long-term yields. With financing more expensive across the board, consumers and businesses cut back their spending on big-ticket items that needed to be financed, including cars, homes, and capital projects. Excess capacity began to build up in the economy, and inflationary pressures abated.
This time, however, banks are easing their lending standards, according to the Fed's own survey of senior loan officers. Global savings have kept long rates down. And companies are awash in cash, so they do not need to tap the credit markets to fund capital investments.
These easier financial conditions present a challenge for the Fed. It wants to bring monetary policy to neutral, at which point short-term rates neither help nor hinder the economy. But policymakers need to separate out the stimulus coming from accommodative market forces from the drag exerted by higher short rates.
PERHAPS THE MOST SIGNIFICANT FORCE going against the Fed's intent is the booming housing market. The last time policymakers hiked rates, back in 1999 and 2000, housing starts fell and total home sales flattened out. Today, because of cheap mortgages and the broad sentiment that housing is a great investment, housing starts and home sales have been rising during this round of rate hikes. Construction jobs and demand for appliances, textiles, and furniture remain strong. Moreover, the continued jump in prices means that consumers can still tap their home equity to finance spending.
Fed officials have expressed worries about the froth in the housing market. In fact, housing was a special topic discussed at the Fed's last policy meeting on June 29-30. For one thing, the increase in speculative buying and more exotic loan packages raise the risk of volatility in the mortgage market if yields turn higher quickly. Already, the yield on a 10-year Treasury bond is up from 3.9% on June 27 to 4.07% on July 6, as investors began to accept the idea that the Fed is not finished raising rates. But another concern for policymakers is that housing, a traditional focus for the central bank, is not bending under the Fed's will. If policymakers can't count on housing to slow, then they must look elsewhere to cool growth.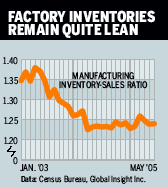 That may not be easy. The massive service sector tends to be insulated from rising interest rates because consumers in general don't use credit to buy services such as their cable hook-up or dry cleaning. And in the case of medical care or education, consumers can't postpone purchases until rates fall. Real consumer spending on services has been growing at a yearly rate of about 3% during the past 12 months. With housing still surging and growth in service demand stable, the Fed is left with manufacturing as the main mechanism to keep growth from accelerating and generating a buildup of price pressures.
SO FAR, THE FACTORY SECTOR is holding up quite well, despite a year of rate hikes. Manufacturers were careful not to build their inventories too quickly even when demand picked up in 2004, and they are still sitting on a healthy level of unfilled orders.
New orders have increased for three months in a row including a 2.9% gain in May, which was led by a jump in aircraft orders. Inventories, meanwhile, were virtually flat in both April and May. That left the ratio of factory stockpiles to sales at a very tight 1.24. Well-managed inventories, coupled with a record-high backlog of unfilled orders, mean factory output should keep increasing in the second half.
That positive outlook is echoed in the latest survey of the nation's purchasing managers done by the Institute for Supply Management. The ISM's manufacturing index rose to 53.8% in June, from 51.4% in May. The index covering new orders jumped in June, and the reading on production also increased.
June car sales are another reason to be upbeat about manufacturing production, if not profits. Purchases of motor vehicles rose to an annual rate of 17.5 million last month, from 16.7 million in May. General Motors Corp.'s (GM ) sales jumped 41% from the year before. The company boosted sales by offering all customers the same discounted prices GM employees pay. The incentive, which will continue to Aug. 1, helped clear out dealers' lots, but most likely at a cost of profits. And now that Ford Motor (F ) and DaimlerChrysler (DCX ) are matching GM's deal, expect earnings for the entire auto sector to soften.
Factory employment, of course, remains a problem, but the layoffs began well before the Fed's latest rate hikes. Total manufacturing payrolls are down by nearly 3 million jobs since the start of the 2001 recession. Many of those losses reflect the strong performance of productivity within the sector as well as the structural shift of factory jobs to overseas facilities.
ANOTHER AREA WORTH WATCHING in manufacturing is the stronger dollar this year and its potential drag on U.S. exports. The dollar has been rising because U.S. growth prospects are so much better than those in the euro zone and Japan. The dollar's gain is a reversal from 2004, when the dollar fell 5.1% on a trade-weighted basis.
Thanks partly to last year's currency drop, exports did well in the first four months of 2005, the latest available data on trade. Merchandise exports so far this year are up 11% from the same period in 2004. That pace is only a bit less than the 13.2% advance for all of 2004, but the mix of exports has changed. World demand for commodities has kept U.S. shipments of raw materials strong, but exports of capital and consumer goods have slowed.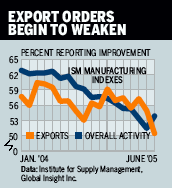 The trade winds could further cool U.S. exports. The ISM data showed a slowdown in foreign orders in both May and June. The June index was the weakest in more than three years.
But the Fed knows the rise in the dollar will take some pressure off of U.S. inflation. Price increases for nonoil import goods have eased this year. Not only is that slowdown mitigating overall U.S. consumer inflation, it also is limiting any price hikes put in place by American manufacturers for their products.
Indeed, given the small pickup in inflation this year, the Fed is probably not looking to slow the economy by much. But with other sectors -- most notably housing -- unlikely to ease up anytime soon, the factory sector may have to bear a larger-than-usual burden for the Fed to achieve its goal of a well-balanced economy and price stability.
By James C. Cooper & Kathleen Madigan
Before it's here, it's on the Bloomberg Terminal.
LEARN MORE