Japan: Taking A Turn for the Better
Japanese companies are more confident about their prospects despite a big export slowdown and oil prices near $60 per barrel. The optimism is an indication that the sickly domestic economy is being nursed back to health.
The quarterly Tankan survey showed a broad-based improvement in business confidence. The June index of large manufacturers rebounded to 18, from 14 in March. The brighter outlook trickled down to medium and small businesses as well as nonmanufacturers. One of the biggest jumps came from companies that provide services for individuals, a sign that domestic demand is improving.
Businesses remain cautiously optimistic about the coming months even as exports remain a big question mark. Brighter prospects at home have companies lifting sales and profit expectations. As a result, businesses are ratcheting up capital investment plans and hiring workers. Through May, payrolls have grown by 750,000 persons, with the strongest gains coming in full-time hires.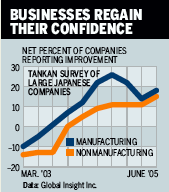 The nascent turnaround in the labor market is already having positive effects. Despite cool weather conditions, May retail sales were up 2.7% from the previous year. June auto sales rose 8.6%. Even the housing market is showing early signs of improvement, with housing starts up 3% in May from previous-year levels.
Better times are paving the way for other vital changes in Japan's economy. Brisk demand and rising wages and bonuses should help end the more than seven-year run of deflation. Analysts see a return to rising prices sometime next year. Brighter prospects are attracting foreign direct investment (FDI). In the fiscal year ended last March, FDI in Japan hit a record $36.7 billion. The influx of investment should help revive the ailing property market.
Japan's economic fortunes will remain disproportionately linked to exports for the foreseeable future. Even with the upswing at home, economic growth in 2005 is unlikely to top 2%. But more balanced growth will provide Japan the stability it needs to finally climb out of its long-running economic funk.
By James Mehring in New York
Before it's here, it's on the Bloomberg Terminal.
LEARN MORE