The U.S. expansion has shown it can tolerate $50 oil with hardly a hesitation. But how will it handle $60 oil when the Federal Reserve has more than tripled short-term interest rates over the past year, signs of corporate jitters have resurfaced, and the dollar has rallied, making exports once again more expensive on global markets?
Crude prices breached $60 per barrel on June 27 and then fell back to just over $57 by June 29. The election of a hard-line President in Iran, worries about refining capacity constraints, and high demand levels are fueling the debate over oil's peak.
But higher oil prices alone no longer have the power to slow the economy. Real gross domestic product grew 3.9% over the course of 2004, and the June 29 revisions to real GDP show the economy grew at a robust 3.8% annual rate in the first quarter of 2005, when oil prices began their latest climb.
True, paying more at the pump is hurting low-income consumers, and some companies are warning about profit shortfalls related to oil. But gas prices today are not as onerous as they were back in the early 1980s. The average price of a gallon of gasoline rose by more than a nickel, to $2.22, for the week ended June 27, but gas would have to cost $3.50 in today's dollars to equal its cost back in 1980.
In addition, the economy is benefiting from some powerful offsets to the higher oil tab. Personal income is rising at a faster clip than it was last year. Low long-term interest rates mean borrowing is cheaper than it was in 2004. And housing wealth is fueling consumer demand.
But this latest round of price increases comes as the economy faces challenges such as a rising dollar and a less accommodative monetary policy. These were not present last year. Taken separately, these drags would probably not cause much concern about growth in the second half. But the cumulative effect bears watching. Most important, if businesses pull back sharply on their capital-spending and hiring plans, the boost to growth expected from the corporate sector could evaporate.
CONSUMERS SEEM TO HAVE taken this latest rise in oil prices in stride. The Conference Board reported its consumer confidence index rose to 105.8 in June, from 103.1 in May. The index is at its highest in three years.
Attitudes about the current state of the economy led the increase, though the expectations index also rose. The percentage of consumers who said jobs were "hard to get" fell to 22.6% from 24.1%, while the proportion saying jobs were plentiful remained at 22.9%. The board noted that June was the first time in 3 1/2 years that the percentage of consumers viewing jobs as hard to get did not exceed the number saying jobs were plentiful.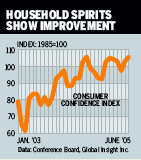 Optimism about the labor markets may trump sticker shock at the pump because gains in income can offset higher fuel bills. Thanks to the increase in jobs plus modest pay raises, total real aftertax income in the first quarter was up 3.7% from the previous-year level. And it's on track to grow by about 3.5% in the second quarter. That pace is solid enough to support future increases in consumer spending.
Households also continue to refinance their mortgages or use home-equity loans to fund their shopping sprees. Housing demand remains hot around the country, and prices keep increasing. In May, sales of new and existing homes stayed at near record paces. The low level of mortgage rates means that sales will probably not cool off anytime soon.
THE BUSINESS SECTOR will be watching consumer behavior closely. Potential demand drives investment and payroll decisions. Companies want to feel confident that any increase in output will be bought. Recall that last year, businesses slowed their hiring on fears that higher oil prices would curb consumer purchases.
Business optimism, as measured by the Business Roundtable, was already softening this spring. Now company executives have more on their worry list. Besides energy, higher labor costs, the rebound in the dollar, and even whispers of protectionism coming out of Washington are clouding the outlook.
So far this year, the dollar has risen about 3.5% on a trade-weighted basis. But its gains against the currencies of other major economies have been much stronger. It's up 12.2% against the euro, 7.1% vs. the yen, 5.6% against the pound sterling, and 2.4% against the Canadian dollar.
The dollar's rebound will hamper export growth in the second half. U.S. manufacturers were expected to make inroads into foreign markets this year, helped by a cheaper dollar. But now that edge is disappearing, while higher energy costs will crimp growth around the world.
Meanwhile, tighter job markets are exerting upward pressure on labor costs even as productivity is slowing. New claims for unemployment benefits remain low. The jobless rate in May fell to 5.1% and is expected to go down over the course of the second half. And in its Beige Book survey on economic activity, the Fed reported shortages for certain skilled workers. The latest note of wage concerns came from the report on manufacturing activity from the Federal Reserve Bank of Richmond. More of the bank's factory contacts anticipate slightly larger wage increases over the next six months.
ONE MEASURE of business sentiment is how companies are handling their capital-spending projects. The idea is that executives won't devote the money and time to big projects unless they feel certain of a payoff later on.
Fed Chairman Alan Greenspan pays close attention to new orders for capital goods to gauge how optimistic execs feel. In May a surge in aircraft orders led to a 14.5% jump in nondefense capital-goods bookings. Excluding planes, though, core orders dropped 2.3%. That was the third decline in the past four months.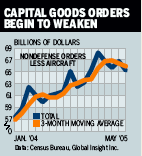 One explanation for the weakness is that companies moved up their early 2005 orders into 2004 to take advantage of a one-time tax break last year. If so, then orders should bounce back over the summer. But it is worth noting that the May slowdown in capital-goods demand was broad. In particular, orders for computers and electronics declined for the second month in a row.
So far, the signs of corporate hesitation have not reached critical mass. But like last year, companies could act on their worries about energy's drag on demand by preemptively slowing down job growth. Already, companies including Interstate Bakeries (BCIQ ), Ford Motor (F ), and Winn-Dixie Stores (WNDXQ ) have announced big layoffs. If such job-cut reports multiply, consumers could become anxious themselves and start to rein in their spending, even if gas prices recede.
That's because what seems to matter most to consumers is jobs. Despite the hoopla over the gyrations in the oil market, labor markets may be more important than fuel prices in determining how the economy performs in 2005's second half.
By James C. Cooper & Kathleen Madigan
Before it's here, it's on the Bloomberg Terminal.
LEARN MORE