France: Consumer Malaise, Fiscal Fears
The French government has scaled back its forecast for 2005 economic growth. But even the lower version may prove too optimistic.
On June 21, Finance Minister Thierry Breton said growth in real gross domestic product for 2005 will probably total less than 2%, instead of the 2% to 2.5% projected earlier. Unlike last year, when real GDP grew 2.1%, consumers are not fueling growth. In May, household spending on manufactured goods took an unexpectedly large drop, falling 0.9% from April. And while business confidence picked up in June, it remains well below the readings of 2004.
Consumers are struggling with higher energy costs and a weak job market. Big job losses in the factory sector led the 6,000 drop in first quarter payrolls. By April, the jobless rate had hit a five-year high of 10.2%, with more increases expected. Indeed, worries about protecting jobs and working conditions were a key reason given for the defeat in France of the European Union Constitution.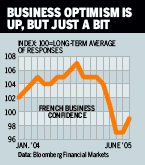 Because of the "no" vote, new Prime Minister Dominique de Villepin has unveiled a 4.5 billion euro ($5.6 billion) plan to create jobs and loosen up hiring laws for small companies. Villepin hopes to have the plan in place by September when most French workers will return from their August holidays.
But any spending plan to boost employment will run up against France's other major economic challenge: a growing fiscal deficit. With the economy slowing more than expected, the government is collecting less in taxes and paying out more in social assistance than was budgeted. Unless the economy were to unexpectedly perk up, France will probably have a 2005 deficit equal to 3.1% of GDP. That would mark the fourth year in which France misses the EU limit on deficits, which is 3% of GDP.
A stronger economy this year does not seem likely. Private economists have cut their forecasts for growth, and even the government's own statistical agency, INSEE, said on June 22 that real GDP expansion will probably be only 1.5%. Growth that slow will exacerbate France's problems of weak job growth and a profligate government.
Before it's here, it's on the Bloomberg Terminal.
LEARN MORE