Is the inflation scare over? It certainly looks that way. Commodity prices have come off the boil. Shorter delivery times mean fewer bottlenecks or shortages that often trigger price hikes. And this spring, the core price indexes, which exclude food and fuel, have posted modest increases. No wonder inflation hawks seem to have less to squawk about.
These developments may explain why bond yields are priced for nothing but perfect outcomes on economic growth and Federal Reserve policy. After all, traders know that companies now make pricing decisions in a world of intense competition, new efficient technologies, and vigilant monetary policy. These forces, which have kept inflation in a narrow band for the past decade, are strong arguments that any inflation outbreak would be limited.
To be sure, the ups and downs of oil prices continue to dominate any discussion of prices. And with oil back up to nearly $60 per barrel in mid-June, gasoline prices are climbing again, and the overall June price measures are sure to spike. So far, though, higher energy prices have not translated into to vastly higher overall prices. If anything, the core indexes at both the wholesale and retail levels are looking tamer now than they did earlier this year.
But complacency about inflation carries big risks. In today's hair-trigger financial markets, the inflation outlook has to turn only a bit worse than expected to generate a sharp negative market reaction. And given the interest-rate sensitivity of frothy housing markets, consumer debt, corporate finance, and some possibly overleveraged hedge funds, the markets -- and the economy -- could be vulnerable to even a small surprise.
TO GAUGE INFLATION'S POTENTIAL, you need to separate the trends in goods prices from those in services . So far, recent signs of moderating inflation have been concentrated in core goods prices, and that slowdown should continue. But services, which account for 70% of the core consumer price index, is where the bigger danger lies. That's because services are labor-intensive -- and compensation costs are picking up, as job markets are tightening. And unlike goods, service prices are much less influenced by global competition and the recent strength in the dollar.
What helped keep service inflation tame for the past two years was a downturn in unit labor costs. Thanks to a surge in productivity economywide, the cost of labor to produce a given unit of output declined from early 2001 to early 2004. But then productivity slowed last year, and compensation costs edged up. Unit costs stopped falling, and services companies now face a critical choice: raise prices or accept smaller profit margins.
Goods producers actually have more room to deal with labor costs because productivity is still going gang-busters in the manufacturing sector. In the first quarter, factory output per hour worked was up 5.6% from its previous year level, vs. 2.5% for all nonfarm businesses.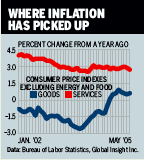 Unit labor costs in manufacturing were up a modest 2.4% from the year, but they jumped 4.3% for all businesses. Although the Labor Dept. does not break out quarterly data on service-sector unit labor costs, the gap between the total and the manufacturing increases suggests that unit costs among service producers are soaring.
Cost pressures will worsen as labor markets tighten. Already, some businesses report trouble filling certain skilled positions. For instance, the National Federation of Independent Business, a trade organization for small companies, said that in June, nearly a quarter of their members had at least one hard-to-fill job opening.
The Fed's Beige Book, a roundup of regional economic activity, cited reports of shortages ranging from energy workers in Dallas to nurses and finance professionals in San Francisco. So far, hourly pay gains have not accelerated much. But with the jobless rate currently at 5.1% and likely to fall below 5%, the upward pressure on wages, and thus unit labor costs, will only strengthen.
AT THE SAME TIME, the outlook for core goods inflation has actually improved. Although the acceleration in goods prices last year accounted for all of the faster pace of core inflation, the speedup mainly reflected a normalization of goods inflation back to where it was prior to the unusual deflationary conditions created by the stock market bust and the ensuing period of recession and global capacity gluts. Remember that core prices for consumer goods -- the level of prices, not just their inflation rate -- actually fell for two years after the 2001 recession, when global growth was still weak.
But as U.S. and global demand solidified last year, prices for commodities and materials rose considerably. Meanwhile, the dollar's decline since 2002 finally caused import prices, especially for goods from Europe, Canada, and Mexico, to begin rising. With demand stronger and with foreign producers marking up their goods, U.S. companies were able to pass along some of their higher input costs to their customers and on to consumers.
The numbers tell the story. Core inflation for consumer goods, which had swung from 1% in early 2001 to -2.6% in late 2003, accelerated back to almost 1% by early 2005. That turnaround caused total core consumer inflation to pick up from 1.1% at the end of 2003 to 2.4% in early 2005, even though core service inflation was stable.
NOW, AS GLOBAL DEMAND has moderated, so has goods inflation. That process shows up most clearly in core wholesale prices further back in the production chain. The yearly inflation rate for crude materials has slowed from a pace of more than 25% late last year to 9.5% in May. And the rate for semifinished intermediate goods is down from more than 8%, to 5.4%. Consequently, core inflation for finished goods has stabilized at about 2.6% this year, suggesting that pressure on consumer goods inflation will continue to ease in coming months.
The dollar's recent strength will also help hold goods inflation in check. Import prices are already growing more slowly. Prices of nonpetroleum imports in May rose 2.5% from the year before, down from the 3.7% yearly pace posted late last year. The slowing in import prices should limit U.S. manufacturers from lifting the prices of their domestically produced merchandise.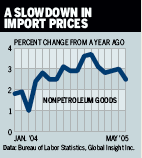 But while the trend for goods prices looks promising, the same assurance can't be made for services. And since services are such a huge part of the inflation equation, tame goods prices would offer little offset if service prices begin to pick up.
What's important to keep in mind is that consumer spending on services accelerated during last year's oil price shock. And interest-rate hikes don't have much impact on spending for medical care or rent or education. If inflation watchers are expecting demand for services to slow, preventing service providers from raising their prices, then they may be disappointed.
The key point here is that a small pickup in inflation will not, by itself, damage the economy. The risk is that an unanticipated rise would shake the bond market out of its complacency and send long-term interest rates sharply higher.
By James C. Cooper & Kathleen Madigan
Before it's here, it's on the Bloomberg Terminal.
LEARN MORE