Sip A Bohemian Raspberry From Jones Soda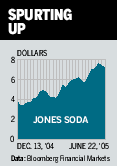 What sets a new soft drink apart from the pack? In the case of Jones Soda (JSDA , it is the appearance and taste of a ``designer'' beverage. Jones brands have a ``distinct fashion look,''notes Nicole Miller of ThinkEquity Partners. They have black-and-white photos on the label and flavors like Bohemian Raspberry, Bada Bing!, and D'Peach Mode. Jones Soda is served at select spots: Starbucks (SBUX ), Target (TGT ), and Barnes & Noble (BKS ) cafés. ``There is demand,'' says Miller, ``for unique products'' -- from jeans to coffee and sodas -- and consumers are willing to pay a premium price. Jones has a following among the pricier brands of beverages, says Miller. Based on its licensing pacts and a stable balance sheet, Jones ``is a solid long-term investment opportunity.'' Its stock has more than doubled, from 3.27 in December to 7.04 on June 22. She forecasts profits of 13 cents per share in 2005 on sales of $35.2 million and 18 cents in 2006 on $42.3 million, up from 6 cents in 2004 on $27.5 million. Jeffrey Kanter of Prudential Equity Group, who is also high on Jones, tags it a buy.
Note: Unless otherwise noted, neither the sources cited in Inside Wall Street nor their firms hold positions in the stocks under discussion. Similarly, they have no investment banking or other financial relationships with them.
By Gene G. Marcial
Before it's here, it's on the Bloomberg Terminal.
LEARN MORE