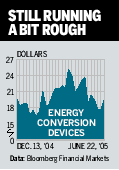 Demand for hybrid vehicles is surging. One way pros are playing it: Buying stock in Energy Conversion Devices (ENER ), the No. 1 U.S. maker of the nickel metal hydride (NiMH) batteries used in hybrids, which combine a gasoline engine with an electric motor. This combo results in twice the fuel economy -- and far lower emissions. ENER stock has soared from 10 in August to 19.69 on June 22. ``We see it at 45 in a year,'' says Brion Tanous of Merriman Curhan Ford (MEM ), which has done banking for the battery maker. ENER will ``dominate the market for years,'' he forecasts. Chevron (CVX ), through a joint venture with ENER, is bankrolling production and marketing of the NiMH battery, notes Tanous. General Motors (GM ) has placed orders for its Chevy Malibu and Saturn Vu hybrids, and by 2007, Tanous expects GM's order to soar. Also, Toyota (TM ) plans to produce a Camry hybrid in Kentucky next year. Under a recent settlement of a patent lawsuit brought by ENER against Matsushita, which makes the battery for Toyota, hybrids made or shipped to America must use U.S. batteries. Jeffrey Bencik of Jefferies Group (JEF ), who rates ENER a buy, says ENER sales now are mostly from its technology that converts solar into electricity. Still in the red, ENER should make money in fiscal 2007, says Bencik, who rates it a buy. He sees earnings of 38 cents a share on sales of $162.5 million. By 2008, he expects $1.08 on $201.6 million. A special boost for hybrids: the new energy bill's $4,000 tax deduction for a hybrid purchase, up from $500 currently.
Note: Unless otherwise noted, neither the sources cited in Inside Wall Street nor their firms hold positions in the stocks under discussion. Similarly, they have no investment banking or other financial relationships with them.
$by By Gene G. Marcial
Before it's here, it's on the Bloomberg Terminal.
LEARN MORE