The Bank of England's attempt to bring Britain's highflying economy in for a soft landing is starting to reach the nail-biting stage.
Fears are growing, even within the BOE, that consumer spending is faltering in response to past hikes in interest rates and soaring energy bills. Two policymakers voted to cut rates at the bank's June 8-9 meeting, dissenting from the majority decision to hold rates steady, according to minutes released on June 22.
At the center of the drama is Britain's housing bubble, which began to lose air in the second half of last year. Although the growth rate of house prices has slowed sharply, a generally healthy economy has helped to allay worries over a collapse. Now the economic outlook is dimming.
In particular, consumers are pulling back more than anticipated. The British Retail Consortium said retailers faired poorly in May, and the Confederation of British Industry noted new softness in the services sector. Government data show that retail sales, up a scant 0.1% in May, have been about flat since October. Over the past year they are up only 1.3%, the slowest pace in six years. Sales of household goods, such as furniture and appliances, showed the weakest yearly advance in 12 years.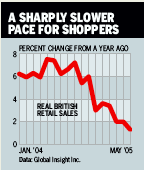 The newest concern is the labor markets. In May the number of workers claiming jobless benefits rose for the fourth month in a row. That hasn't happened since 1993, and it could be a harbinger of softer job markets. Wage growth, excluding bonuses, is already slowing.
More important, household discretionary income -- what's left after debt payments, utility bills, and other nonpostponable outlays -- actually declined last year, according to an estimate by Morgan Stanley (MWD ) in London. The drop stems mainly from slower growth in wages and salaries, smaller increases in benefits, and a bigger rise in net interest payments. In addition, another key spending resource, mortgage equity withdrawal, has tumbled, reflecting the steep decline in mortgage activity.
So far, BOE Governor Mervyn A. King sounds optimistic that policy and the economy are in sync. But in the coming months, all eyes will be on consumers and the labor markets to see whether he is right.
By James C. Cooper & Kathleen Madigan
Before it's here, it's on the Bloomberg Terminal.
LEARN MORE