Heading North To Alaska Communications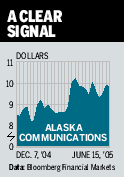 With its rich 8.4% dividend yield, Alaska Communications Systems Group (ALSK ) is an eye-catcher. But the real appeal, say some pros, is growth, driven by its surging wireless service. Shares of ALSK, the largest local exchange carrier and No. 2 wireless service provider in Alaska, have been electric, bolting from 5.25 in October to 10.20 on May 30 -- before easing to 9.84 lately. Charles Purcell of Gartmore Global Investments, whose small-cap core fund owns shares, says wireless service is powering Alaska's expansion. Revenues from wireless are expected to hit $88 million in 2006, up from $76 million in 2005 and $56 million in 2004. Purcell sees the stock at 12 in a year. David Barden of Banc of America Securities (BAC ), which has done banking for ALSK, rates the stock a buy -- as an attractive hybrid of a turnaround and dividend-yield stock. New management, under CEO Liane Pelletier, is improving the wireless service and focusing on growth -- to pay for high dividends. Still in the red, Alaska will make money by 2006. Even now, EBITDA (earnings before interest, tax, depreciation, and amortization) is rising. Barden puts EBITDA at $111.8 million on sales of $314 million in 2005 and at $114.2 million on $319 million in 2006 -- up from $104 million on $302 million in 2004.
Note: Unless otherwise noted, neither the sources cited in Inside Wall Street nor their firms hold positions in the stocks under discussion. Similarly, they have no investment banking or other financial relationships with them.
By Gene G. Marcial
Before it's here, it's on the Bloomberg Terminal.
LEARN MORE