FedEx: All Set For Takeoff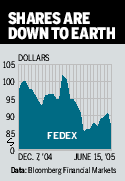 FedEx (FDX ) hit a new high of 101 in early March, up from 90 in January, but has since run into head winds. The shares' drop, to 86, has made some big investors bail or pare their stakes -- as analysts, spooked by surging oil prices and fierce rivals, trimmed their 2005 and 2006 profit forecasts. But John Maloney of M&R Capital Management thinks FedEx is now a bargain: Its price-earnings ratio has dived to 15 from 19, where it had been in the past five years, he notes. So he has been buying. With its own planes and trucks, "FedEx is the undisputed leader in domestic air parcel, with huge prospects in Asia," says Maloney. China and India in particular, he believes, will help FedEx achieve 15% yearly earnings growth. In ground parcels, FedEx, with a 16% share of the U.S. business, is a distant No. 2 to United Parcel Service's (UPS ) 65%. But FedEx is gaining, notes Rick Paterson of UBS, which has done banking for FedEx. Rating the stock a buy, Paterson says FedEx will get a big boost from its rising share in ground deliveries and from go-go business in China. Paterson sees earnings of $4.83 a share in the year ended May 31, 2005, on sales of $29.5 billion; $5.52 in 2006 on $31.4 billion; and $6.22 in 2007 on $33.7 billion. His price target: 118.
Note: Unless otherwise noted, neither the sources cited in Inside Wall Street nor their firms hold positions in the stocks under discussion. Similarly, they have no investment banking or other financial relationships with them.
By Gene G. Marcial
Before it's here, it's on the Bloomberg Terminal.
LEARN MORE