U.S.: Weak Payrolls Mask A Tightening Job Market
How companies handle rising labor costs will affect future inflation
The labor markets have always been the mother lode of information about trends in economic growth, inflation, and Federal Reserve policy. Unfortunately, the mixed signals from the latest data on jobs and labor costs seem to raise more questions than they answer. In May, payrolls grew by a meager 78,000, the smallest gain since the summer of 2003, adding fuel to the argument that the economy is slowing. But the unemployment rate fell to 5.1%, reaching a new low for this business cycle, implying that the labor markets continue to tighten.
Other labor-related data also raise new concerns about inflation. Revised numbers show that first-quarter productivity grew at a solid 2.9% annual rate, faster than originally reported. However, the same report says that labor costs are up sharply, far outstripping the gains in efficiency. In the past, those conditions have often gone hand-in-hand with increased pressure on inflation. This time, higher energy costs were already pushing up business costs, and now so is labor.
The jumbled messages come at a moment of conflicting perceptions within the financial markets and the Fed. The recent rally in the bond market is based partly on the view that the economy is slowing and that the Fed can stop raising interest rates in the second half. Fed policymakers, however, must be wondering if companies will try to cover the jump in labor costs by pushing through bigger price increases. Unless the Fed is convinced that inflationary pressures are easing, they may feel a pause in rate hiking is too risky.
SO WHAT ARE THE LABOR MARKETS really saying about the economy? On balance, the data show more signs that labor markets are tightening than loosening, and those signals go beyond the declining jobless rate.
First, the percentage of the population employed rose in May to 62.7%, the highest in 2 1/2 years. Second, the small May payroll gain followed a super-size increase of 274,000 in April. In general, monthly payroll gains have been unusually volatile over the past year. When smoothed out over time, the data show that the average gain this year has been about 180,000 per month, close to the monthly trend for all of 2004.
Finally, the payroll data overlook the growing numbers of self-employed. That's one reason why the Labor Dept.'s other measure of jobs, which is based on a survey of households as opposed to the survey of business payrolls, shows employment so far this year has risen by 1.3 million, vs. a gain of 900,000 in the payroll data.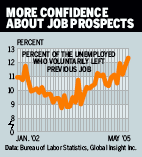 The importance of the entrepreneur is also evident in recent comments from the National Federation of Independent Businesses, which represents small companies. NFIB's surveys of its 600,000 members indicate job creation among small businesses is "much more consistent with the household survey than the payroll survey." Corroborating that, the personal income created from proprietorships is growing at an annual rate of 10.5% so far this year, up from a 9.2% pace for all of last year and twice the pace of income from wages and salaries.
Perhaps more important, workers now stay unemployed for a much shorter time than was the case earlier in this expansion. In April and May, the median duration of unemployment was about nine weeks, the lowest reading in three years. And much of the decline in unemployment has occurred for "long-term unemployed" workers -- those who remain jobless for 15 weeks or more. Plus, new claims for unemployment benefits through May do not show any broad pattern of layoffs.
In addition, workers' sense of job insecurity appears to be lessening a bit. Not only did the latest survey of consumer confidence indicate that more Americans believe jobs will be more plentiful in the coming months, but also that more people are voluntarily quitting their previous jobs in search of another. This so-called quit rate rose to 12.3% of the labor force in May, the highest level in almost four years. In the past, Fed Chairman Alan Greenspan has looked at the quit rate to gauge how confident consumers feel about job prospects.
THE DEGREE TO WHICH labor markets are tightening will likely be the most crucial factor in future interest-rate decisions by the Fed, because of what tight job markets imply for future inflation. And recent reports suggest there is a bit more inflation potential in the labor market than earlier data had suggested.
The Labor Dept. made sharply higher revisions to its measure of hourly labor compensation in the fourth quarter of last year and in the first quarter of this year. Originally, wages, salaries, and benefits were reported to have grown at annual rates of 3.8% and 4.8% for the two quarters, respectively. Revised data now show growth rates of 10.2% and 6.3%. To be sure, some of those gains appear to be one-timers, related to exercised stock options and yearend bonuses. Those factors are not a permanent part of the wage and salary structure, which tends to minimize their significance for future inflation.
BUT KEEP TWO THINGS IN MIND: One, the wage gains imply that household demand is well supported by income growth, a big factor that helped consumers clear the oil-price hurdle and has increased their ability to pay higher prices generally. Two, the cost of producing a unit of output, or unit labor costs, is picking up.
Indeed, the cost squeeze from labor is made even greater by the slowdown in productivity. In the past year, productivity in the nonfarm business sector has grown 2.6%, while labor compensation is up 7%. That resulted in a 4.3% yearly increase in unit labor costs, the sharpest rise in 4 1/2 years. Some of that increase reflects the outsize fourth-quarter advance in pay, but it is nevertheless far greater than the 2.5% increase in prices.
Excluding the finance sector and nonincorporated businesses, where productivity measures may be understated because of measurement difficulties, the news is a little better. Productivity among nonfinancial corporations has been much stronger, a trend that probably more accurately reflects current corporate experience. Nevertheless, unit labor costs are still up 2% from a year ago, the steepest climb in 3 1/2 years. Prices in the nonfinancial sector, however, are up 2.1%, the fastest clip in 10 years.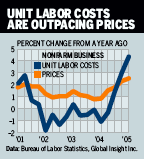 In a strong economy, with tight labor markets, this leaves businesses with two options: lift prices to compensate, or watch profit margins get squeezed. In the late 1990s, as unit costs picked up, the lack of pricing power caused margins to suffer. But now, with signs that businesses are more successful in passing along rising costs through higher prices, the inflation threat is a little bigger.
That's especially true because, although job gains in this recovery have paled in comparison to past recoveries, that slower pace has not prevented the jobless rate from falling from a peak of 6.3% two years ago. If job gains continue to average 180,000 per month, then joblessness will finish the year well below 5%. That's a zone that will generate a further upward tilt to pay gains.
By James C. Cooper & Kathleen Madigan
Before it's here, it's on the Bloomberg Terminal.
LEARN MORE