PriceSmart May Be For Sale. Will Wal-Mart Go Shopping?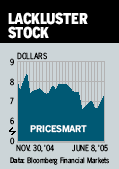 Sol Price, who in 1976 founded Price Club, the first membership warehouse store, sold it in 1993 to Costco Wholesale (COST ). A few years later he formed PriceSmart (PSMT ). Based in San Diego, PriceSmart runs 26 U.S.-style warehouse clubs in Latin America and Asia. The Price family, led by CEO Robert Price, Sol's son, may do a further deal: take PriceSmart private or sell it. Robert Robotti, who has a 4.6% stake, says execs considered going private in February to avoid costs of complying with Sarbanes-Oxley. The family dropped the idea when the government extended compliance by a year. Robotti, who runs an investment firm of that name, says the Prices, who own 50% of PriceSmart, may still go that route -- or sell to Costco, with which the Prices still have close ties. Stuart Shikiar of Shikiar Asset Management, which owns shares, also expects a deal, but he thinks Wal-Mart (WMT ), which owns Sam's Club, would be a logical buyer to extend its global reach. PriceSmart has repaired its balance sheet, notes Shikiar: In a rights offering, it converted its $50 million debt into equity, at 8 to 10 a share. He says the stock, now at 7.36, is worth 12 to 15. Although PriceSmart is still in the red, sales are up, and he says they'll hit $700 million this year, vs. $609 million in 2004. In two years, he expects earnings of 50 cents to 75 cents a share. Wal-Mart's Bill Wertz says: "We're interested in Latin America but we can't comment on market rumors." PriceSmart didn't return calls.
Note: Unless otherwise noted, neither the sources cited in Inside Wall Street nor their firms hold positions in the stocks under discussion. Similarly, they have no investment banking or other financial relationships with them.
By Gene G. Marcial
Before it's here, it's on the Bloomberg Terminal.
LEARN MORE