Australia: Slower Growth Will Keep Rates On Hold
As expected, the Reserve Bank of Australia kept its target for interest rates unchanged amid signs that the economy is slowing and the housing boom is running out of steam.
On June 8, the RBA decided to keep its overnight lending rate at 5.5%. Policymakers had lifted the rate by a quarter-point in March, with hints of more hikes to come. But now that the Australian economy shows distinct signs of cooling off, the tightening cycle may be on hold for the winter if not for the entire year.
Real gross domestic product grew by only 0.7% in the first quarter from the fourth. Real business investment fell, and household spending picked up from a weak fourth-quarter advance, but the pace was below the gains posted in any of the previous four quarters. Indeed, almost all of the economy's growth came from a buildup in inventories, which was probably unintended.
The slowdown is likely continuing into the second quarter. April retail sales fell by more than expected, and in May manufacturers reported fewer orders, the service sector contracted, and business confidence remained at a two-year low. Plus, the slowdown in China is curbing export growth.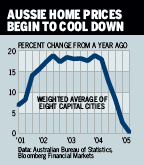 Solid wage gains and a strong labor market mean a severe slump in demand is unlikely, but the first-quarter start puts the economy on track to grow about 2.5% this year, from 3.25% in 2004. The good news is that the cooling off should keep inflation, which hit a yearly pace of 2.4% in the first quarter, within the RBA's target range of 2% to 3%.
One area where worries are easing is housing. After years of soaring, demand and prices have slowed significantly. In April, building permits were down 15.3% from year-ago levels. And in the first quarter, the average home price in Australia's eight major cities was up just 0.4% from a year ago, vs. a 17.9% surge in the first quarter of 2004.
However, a danger to the outlook that is immune to policy changes is the ongoing drought. Some farm regions have tallied the lowest rainfalls on record. Since agricultural goods, such as wheat, beef, and wine, are major contributors to gains in Australia's exports, continued lack of rain will almost surely cut into economic growth this year.
By James C. Cooper & Kathleen Madigan
Before it's here, it's on the Bloomberg Terminal.
LEARN MORE