U.S.: More Caution In The Corner Office
But consumer resilience should keep executives from acting on their fears
Consumers seem to be adjusting to a world of $50-a-barrel oil faster than business executives are. That, at least, is the word from the latest confidence readings around the economy. The gap in attitudes could play into the outlook. Business spending had been expected to provide a big chunk of growth this year, allowing households to take a break to rework their budgets and replenish their savings. Now, despite $2-a-gallon gasoline, it looks as if consumers are ready to keep increasing their purchases even if businesses hesitate.
Make no mistake, chief executives are still positive about the economy. It's just that their optimism in May was more tempered than it was in March, according to a survey of 123 CEOs done by the Business Roundtable. Consumer confidence, meanwhile, bounced back in May after dropping in April, says the Conference Board. Part of the rebound may imply that the stronger tone in the labor markets is offsetting the drag from higher fuel costs. Plus, revisions to government data show that since last October, households have been enjoying bigger gains in wages and salaries than previously thought.
The key question is whether a more circumspect business sector will pull back on capital spending and hiring when other sources of stimulus have been just about all played out. The Fed is raising short-term interest rates, the weaker dollar hasn't helped exports much, and past tax cuts are no longer boosting incomes. So far, the data show businesses aren't acting on their worries. The danger, though, is if they do. A slowdown in capital spending or job gains could dampen growth.
Indeed, that's what happened last year. As oil prices rose, businesses became uncertain about future demand. They cut back on their orders for capital goods in April and May of 2004 and slowed the pace of hiring into the summer. It was only after consumers adjusted to higher fuel costs and quickly revived their spending that businesses rejoined the expansion in full force.
Last year's experience may make a big difference for 2005. Businesses know U.S. consumers can shoulder a rise in energy prices and that domestic demand should keep increasing this year.
EVEN SO, EXECUTIVES still harbor some concerns about the effect of higher energy prices on both their cost structure and economywide spending. The Roundtable's CEO economic outlook index for May fell to 94.3 from a high of 104.4 in March. The May reading was the lowest since March, 2004, and the Roundtable said those findings were consistent with other surveys that show some softening in the pace of economic growth because of higher energy prices. And on June 1, the price of crude oil jumped back up to more than $54 per barrel.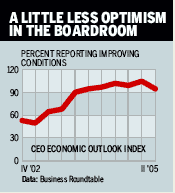 The Roundtable says 85% of the CEOs surveyed expect their company's sales to increase over the next six months, down a bit from 89% in March. But the percentage expecting to lift their capital spending fell to 49% from 60%, and those who thought they would reduce employment jumped to 30% from 18% in March. That layoff reading was the highest since October, 2003, during the jobless phase of this expansion.
Caution seems concentrated in the factory sector. The latest survey of manufacturers from PricewaterhouseCoopers indicated that 47% of companies expected increasing oil prices would be a barrier to future growth. And the Institute for Supply Management's index of industrial activity fell in May for the sixth month in a row. The index, at 51.4%, implies that factory activity is still on the rise, but that growth in the sector is slowing.
One area where business caution has already turned into action is inventories, as companies make adjustments to guard against an excessive buildup of goods. Inventories grew rapidly at the start of the first quarter, but the pace has since slowed. The May 26 revisions to real gross domestic product, which showed the economy grew at an annual rate of 3.5% in the first quarter, indicated that inventory accumulation was much less than first estimated.
IF BUSINESSES TURN TOO CAUTIOUS -- as they have previously in this expansion -- the economy would need consumers to keep on spending. So far in the second quarter, they seem to have the mind-set and resources to meet that challenge. The Conference Board's index of consumer confidence rose to 102.2 in May, after dropping to 97.5 in April. The Board said concerns about the economy and jobs have eased. In fact, the outlook for job prospects improved, with a rise in the percentage expecting more jobs to be available and a drop in those thinking they will be hard to get over the next six months.
In addition to a better attitude, households also have more cash. The Bureau of Economic Analysis reported that personal income rose 0.7% in April from March. The lion's share of the gain came from an increase in wages and salaries, a reflection of better labor markets. Real consumer spending rose 0.2% in April, after gaining 0.4% in March, putting consumer outlays for the second quarter on track to post another advance of 3% or greater.
Consumer demand will also get a lift from the recent decline in gas prices. After topping out at $2.28 in early April, the average cost of a gallon of gas slipped to $2.10 at the end of May, just as the summer driving season began. Cheaper fuel means that the overall consumer price index most likely declined in May, providing a big boost for May real incomes.
MOREOVER, THE BEA made significant upward revisions to the income data for the six months ended in March. The numbers now show that the economy generated $90 billion more in personal income than previously estimated. Almost all of the revision was in wages and salaries. Over the year ended in April, wages and salaries are up 7.6%, and even after adjusting for inflation, the gain is 4.8%. That means households have the wherewithal to keep shopping.
One interesting note is that the growth in wages and salaries over the past year is on a par with the average pace seen during the second half of the 1990s. But during the earlier period, payroll gains averaged 254,000 jobs per month, vs. only 193,000 over the past year. That would seem to imply that the economy is generating the same pace of wages and salaries at a slower rate of job growth.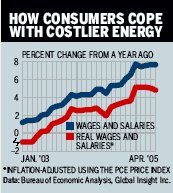 One possible explanation: Either payroll gains or GDP growth over the past year may well be understated and could be set for an upward revision. To the extent that GDP growth might be faster, that would imply higher productivity growth. But to the extent that payrolls might be higher, productivity growth would be lower, suggesting more of a cost squeeze on businesses that would only feed their fears.
Certainly, CEO sentiment and various industrial surveys suggest that businesses are feeling a little jittery right now. However, the household sector's resilience means that companies are less likely to act on their worries by trimming capital budgets or payrolls. And much like the pattern of last year, any hesitancy in the boardroom will most likely be short-lived.
By James C. Cooper & Kathleen Madigan
Before it's here, it's on the Bloomberg Terminal.
LEARN MORE