Canada: Can Policymakers Keep Inflation Quiet?
At first glance, Canada's economy appears to be behaving just as the Bank of Canada would like: tame growth with low inflation. But for how long?
Statistics Canada reported on May 31 that real gross domestic product grew at a moderate 2.3% annual rate in the first quarter, after expanding 2.1% in the final quarter of 2004. A few days earlier came word that yearly core inflation, the consumer price index minus energy and certain food items, dipped to 1.7% in April, below the 2% midpoint of the BOC's target range.
But look below the surface and you will find a bubbling domestic economy running close to its production limits. Domestic demand in the first quarter surged at a 5.4% annual rate, led by a 6.3% advance in consumer spending and a 13.5% jump in business outlays for plants and equipment. Plus, overall GDP growth was revised up in each of the three previous quarters. As a result, the rate of capacity use in all industry stands at a 17-year high, and the unemployment rate has fallen close to a 30-year low.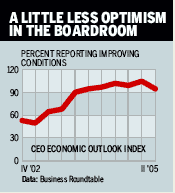 The key downside of last quarter's GDP number was the continued drain on growth caused by the shrinking trade surplus. Canada's current account surplus fell to a two-year low in the first quarter. Although exports rose at a 5.9% annual rate last quarter, the best showing in over a year, imports surged 10.6%. The worsening trade position, the result of the 25% strengthening in the Canadian dollar during 2003 and '04, subtracted 1.3 percentage points from first-quarter GDP growth, after much larger minuses in the final two quarters of 2004.
These disparate factors affecting GDP growth highlight the BOC's risky strategy of bolstering domestic demand with low interest rates to offset the drag from trade. The BOC kept its target rate at 2.5% on May 25, and the real rate is barely above zero. The bank is generally expected to begin lifting rates later this summer to try to keep inflation under control. But that task will be made doubly difficult by new fiscal stimulus added to the 2005 budget and by Canada's moribund productivity, which has grown only 0.3% annually in the past two years.
By James C. Cooper & Kathleen Madigan
Before it's here, it's on the Bloomberg Terminal.
LEARN MORE