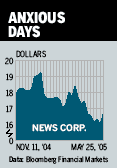 News Corp. (NWS ) is a leader in global media, so why is its stock so sluggish? Headed by Rupert Murdoch, News owns prime properties in film, newspapers, magazines, books, TV, and satellite broadcasting. The shares are down from 19 in December to 16.6, partly out of uncertainty about whether the 18% held by John Malone's Liberty Media (L ) will be bought by News.
This stock overhang is spooking the Street, says Sarat Sethi of Douglas C. Lane & Associates, which owns shares. Investors fear Malone may sell in the open market, driving the price down. But Sethi is betting that Murdoch will get the upper hand in dealing with Malone and end up buying the stake on Murdoch's terms. Once resolved, the news will spark the stock, he says. News is an "attractive long-term investment," and what will drive up earnings is satellite operations, led by Sky Italia, a 100%-owned unit. Sethi sees Sky Italia, now in the red, turning fat profits in three years. He also predicts solid gains in its Fox News and sports cable units. So he sees News revenues growing yearly at 8% to 10% and operating income 18% to 19% over the next three years. Richard Bilotti of Morgan Stanley (MWD ), which has done banking for News, rates it "overweight" and says the Street underestimates its satellite operations: Sky Italia, DirecTV (DTV ), and BSkyB (BSY ). By 2009 they will make up 25% of operating earnings, he says. He has a 12-month target of 25, based on earnings of 67 cents in 2005 and 80 cents in 2006, vs. last year's 50 cents .
Note: Unless otherwise noted, neither the sources cited in Inside Wall Street nor their firms hold positions in the stocks under discussion. Similarly, they have no investment banking or other financial relationships with them.
By Gene G. Marcial
Before it's here, it's on the Bloomberg Terminal.
LEARN MORE