France: Something's Gotta Give
The French economy is still chugging, pulled along by households. But it looks increasingly unlikely that the country can keep up its recent pace of growth, as the stagnant labor market may compel consumers to put the brakes on spending.
The preliminary figures for first-quarter real gross domestic product showed a paltry 0.2% quarterly gain, or an increase of 1.7% from a year ago. In the first quarter, consumers led the way with a 0.7% quarterly increase in private consumption. A second straight 0.8% gain in residential investment showed that the French housing market is still robust as interest rates remain quite low. And increased home sales are driving up other spending. In April consumer spending on manufactured goods jumped 1%. The unexpected gain resulted from a 4.4% surge in home-related durable goods.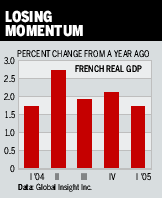 In recent quarters consumers have received extra cash to spend from a few sources. The French government raised the minimum wage last summer by 5.8% and is planning on a 5.5% increase this summer. Plus, a collection of one-time government measures, such as allowing workers to tap into company-sponsored savings accounts, also unlocked extra funds for spending.
However, such maneuvers will not be able to sustain the current pace of spending, according to private economists. Stubbornly high oil prices are dampening consumer spirits. And companies show no signs of adding jobs which would provide more fuel for consumer spending. After holding at 10% in 2004, the jobless rate has crept up to 10.2%. In fact, another hike in the minimum wage may act as a disincentive to hiring. Thus, even if interest rates remain low, job concerns may cause a slowdown in the housing market.
France is unlikely to slip into the same funk as its euro zone neighbors Italy and Germany. But as prospects for household spending dim, economic growth forecasts are being trimmed. On May 24, the Organization for Economic Cooperation & Development revised its 2005 forecast for French growth down to 1.4%, from 2%.
By James Mehring in New York
Before it's here, it's on the Bloomberg Terminal.
LEARN MORE