U.S.: Manufacturing May Already Be On The Mend
Strong demand and low interest rates should steady the factory sector
The economy's elusive "soft spot," which has commanded so much attention in recent weeks, is coming into clearer focus. It's called manufacturing. U.S. factory output and payrolls seem to be taking the biggest hit from this year's energy-related slowdown in domestic and global demand. April industrial production and the May survey of industrial activity in the New York Federal Reserve district showed the weakness continued into the early part of the second quarter.
Yet amid this gloomy data, the rest of the economy appears to be holding up quite well. And this broader strength is laying the groundwork for firmer footing in the factory sector. In particular, the news on April inflation was surprisingly good, given that the core consumer price index, which excludes energy and food, showed no increase from March. While that moderation is unlikely to deter the Federal Reserve from further hikes in short-term interest rates this summer, the better inflation news has helped to ratchet down long-term rates, which will add support to housing, as well as the interest-rate-sensitive areas of manufacturing.
Although manufacturing is a steadily shrinking part of the economy, it still exerts force. It just doesn't pack the same cyclical wallop it once did. For example, two years ago, after the 2001 recession ended, factory out-put shrank for three quarters in a row, even as the overall economy continued to grow. Moreover, a disproportionate amount of economic data -- and thus media attention -- still relate to manufacturing, an artifact of America's industrial past. Consider that the health and social services sector now employs more people than all U.S. factories.
Three factors account for manufacturing's weakness. First, domestic demand slipped earlier this year. Costlier energy temporarily depressed consumer spending, and capital spending slowed after companies made big purchases at the end of 2004 in advance of the expiration of a special tax allowance. Second, cooler global growth has slowed the growth of exports. And third, with overall demand having slipped, factories have eased up on their output in an effort to control their inventories.
HOWEVER, THE LATEST DATA suggest manufacturing is already recovering. Consumer spending is showing surprising resilience, based on the sharp rebounds in April retail sales and housing starts, a factor that will boost future ordering of manufactured goods. And combined with the slowdown in March inventories, the output numbers show that production cuts are helping manufacturers to clear away excess inventories.
The April report on industrial output suggests that much of the manufacturing slowdown this year is concentrated in the auto industry, related to the efforts to pare inventories on dealers' lots. April industrial production dropped 0.2% from March, reflecting a weather-related fall in utility output. Manufacturing production, by itself, posted no gain.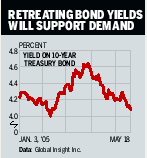 But without a 3.5% drop in output of motor vehicles, manufacturing production advanced 0.4%. In fact, so far this year overall factory output has grown at a tepid 1.8% annual rate, but excluding the auto sector, production has risen at a 3.2% clip.
Much of last month's bounce showed up in a big increase in the production of business equipment, a result that should allay concerns that businesses are pulling back on their capital spending. Equipment output jumped 0.8% in April, but the total was dragged down by the drop in auto output. Information-processing gear and industrial machinery each posted strong increases.
WORRIES THAT FADING consumer demand could crimp future factory orders are also waning. Despite higher gasoline prices and the early Easter, which was expected to draw sales into March and away from April, retail sales last month soared 1.4% from March. Car sales rebounded strongly in April, but even excluding autos, sales rose a hefty 1.1%. That showing suggests that healthy gains in jobs and incomes are offsetting a big part of the drain on household budgets coming from costlier energy.
Sturdy consumer spending, especially the big gain in April auto sales, is helping to clear away any inventory problem. Business inventories had risen considerably faster than sales in both January and February, including a 1.5% rise in manufacturing stockpiles, one of the largest monthly increases on record. But in March, business inventories rose by a slower 0.4%, even as sales picked up by 0.7%. Manufacturing shipments increased more than twice as fast as factory inventories did.
Credit manufacturers' quick reaction, aided by new technology and inventory controls, for preventing a small inventory problem from ballooning into a bigger one that could have had a greater impact. In addition, some of the big rise in January and February inventories came from imported goods. To the extent that's true, U.S. production will be shielded from efforts to cut inventory levels. Instead, import growth may cool off a bit, helping to slow the deterioration of the huge U.S. trade deficit.
The global slowdown may present a tougher problem for many manufacturers. Exports account for about 20% of U.S. factory production, according to the National Association of Manufacturers. But in March, real exports were up just 2.9% from a year ago, the slowest yearly pace in 1 1/2 years. Costlier energy and the rise in the euro have been a double whammy for the euro zone's economy, and prospects for any meaningful recovery there anytime soon remain doubtful. U.S. exports to Asia have also fallen off during the past year.
BUT THERE'S A POTENTIAL PLUS in slower global growth: It may well take some pressure off the cost of materials and supplies. Start with oil. The climb in oil prices was driven by last year's upsurge in global demand. Now that demand is easing, oil prices have edged below $50 per barrel, and with crude inventories at adequate levels, further price declines seem likely.
Commodity prices generally are off their highs, and U.S. producer prices show that inflation in the earlier stages of processing is cooling off. In April, costlier energy lifted the producer price index for finished goods by 0.6%. Excluding energy and food, the core index rose 0.3%, partly reflecting a one-time jump in wholesale cigarette prices.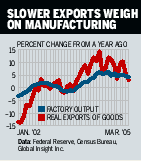 But further back in the production chain, yearly core inflation for semifinished intermediate goods has turned down. After surging to a two-decade high of 8.5% in January, the rate fell to 6.6% in April. Also, the inflation rate for core crude materials has fallen to 8.4%, after reaching a peak of more than 30% last summer.
The slowdown in materials costs will help to take a little pressure off manufacturers' profit margins at a time when factories have already been quick to adjust their labor costs: Manufacturers have cut more than 50,000 workers since last summer. Combine that with resilient U.S. demand and leaner inventories, and the manufacturing sector should finish the year in much better shape than it is now.
By James C. Cooper & Kathleen Madigan
Before it's here, it's on the Bloomberg Terminal.
LEARN MORE