Japan: A Recovery On Simmer, Not Boil
Japan's economy posted a spectacular gain in the first quarter. But don't expect a repeat in the coming quarters of 2005.
Real gross domestic product grew at a strong 5.3% annual rate, more than double what analysts had projected. Household spending jumped by 4.8% as consumers bounced back after weather curbed demand in the fourth quarter. Capital spending grew an impressive 8.2%, but exports fell 0.8%.
It's doubtful Japan can maintain its early-year strength. After all, the economy grew 5.6% in the first quarter of 2004, only to shrink in the following two quarters. But the hefty first-quarter start suggests growth for all of 2005 should hit 1%. Real GDP grew 0.9% in 2004.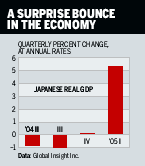 Japanese consumers will be the key to sustaining the recovery. On the plus side, the job market is improving now that businesses are hiring more full-time workers: The jobless rate fell to 4.5% in March, from 4.7% in February. And incomes are finally rising as companies resume paying bonuses. But it is not certain consumers will want to keep shopping. Although confidence improved in April, consumers holding a pessimistic view of the economy still outnumber optimists, and income-tax breaks will be phased out next year. That could cause after-tax incomes to weaken again.
Meanwhile, the outlook for business spending has brightened. Machinery orders increased 1.9% in March. Sentiment about future growth has come down a bit from 2004's high, but it still remains in positive territory. Decisions for future capital budgets will depend on how domestic demand is faring, since exports are being hurt by the strong yen and the global slowdown, especially in the U.S. and China.
With the recovery looking stronger, the Bank of Japan will concentrate its efforts to end the nation's seven-year battle with deflation. One area of concern within the GDP report was news that prices economywide fell at a 2.8% annual rate last quarter. The drop was the largest since late 2003 and strengthens the idea that the BOJ will continue to hold interest rates near zero until stronger demand begins to generate some pricing power for businesses.
By James C. Cooper & Kathleen Madigan
Before it's here, it's on the Bloomberg Terminal.
LEARN MORE