XM Satellite Radio Turns Up the Volume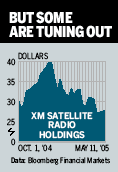 Shares of XM Satellite Radio Holdings (XMSR ) are in a funk -- at 27.77, down from 41 in December. Not to worry, says Lee Schultheis, who has bought shares for his Alpha Hedged Strategies Fund. (Alpha ranked No. 1 in Morningstar's "conservative allocation" category, up 14.1% for the year ended Mar. 31, 2005, vs. 6.7% for the Standard & Poor's 500-stock index.) XM, tops in subscribers in satellite radio, got hurt by buzz about rival Sirius Satellite Radio's (SIRI ) signing up Howard Stern and Martha Stewart. Schultheis figures XM is a "better value" than Sirius, with a 60% projected share vs. Sirius' 40%. Yet XM's market cap is lower than Sirius'. XM topped forecasts in the first quarter, and Schultheis sees the stock snapping back to 42 in 12 months. He says the market has yet to recognize some catalysts: XM's deal to promote America Online's (TWX ) Net radio programs and cross-market them to XM's 3.8 million subscribers and AOL's 100 million monthly visitors. And XM is Major League Baseball's official network, letting fans listen to home games anywhere. James Goss of Barrington Research rates XM, which is in the red, outperform. He sees it breaking even in 2007 after an expected loss of $2.40 a share in 2005 and $1 in 2006.
Note: Unless otherwise noted, neither the sources cited in Inside Wall Street nor their firms hold positions in the stocks under discussion. Similarly, they have no investment banking or other financial relationships with them.
By Gene G. Marcial
Before it's here, it's on the Bloomberg Terminal.
LEARN MORE