Turkey: Leaving The Boom-Bust Cycle Behind
Turkey, lying at the crossroads of Europe, Asia, and the Middle East, is rapidly transforming itself into one of the world's most dynamic economies. Led by a reform-minded government, the country is shrinking its public sector, revamping its pension system, privatizing public companies, and making a strong case for European Union membership.
Structural change implemented by the majority Justice & Development Party of Prime Minister Recep Tayyip Erdogan, which took power in 2003, has boosted productivity, cut inflation, attracted increased foreign direct investment (FDI), and helped steer the economy away from its boom-bust pattern of the past. "Even the greatest optimist could not have anticipated the extent to which the reforms implemented in the past few years have succeeded," said the International Monetary Fund's Anne O. Krueger in a speech in Istanbul on May 5. The IMF is set to approve a new $10 billion loan.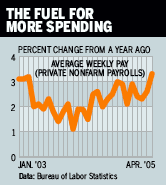 Since its 2001 financial crisis, which fueled sentiment for reform, Turkey's real gross domestic product has grown 8% yearly, with an 8.9% rise in 2004. Inflation has slowed from 70% to 8.2%, allowing the central bank to slash interest rates, including a half-point cut on May 10, to a record low 14.5%. And in a key shift, public investment dropped 4.8% last year, while private investment shot up 45.5%. Joblessness stands at 11.5%, reflecting rapid productivity gains, but Turkey still managed to create 1.1 million new jobs last year.
Exports, up 24% from a year ago in March, are driving growth, but the strong economy is pulling in imports. Last year, the current account deficit stood at 5.2% of GDP, a 45-year high. But in contrast with the past, a sharp pickup in privatization and FDI will ease the financing burden. Based on data so far, JPMorgan Chase (JPM ) in Istanbul projects that Turkey will draw $6 billion in FDI in 2005, up from $0.8 billion yearly in 2002-2004, or 38% of the expected current account gap.
Turkey still faces risks, including exposure to Mideast tensions, high joblessness, and weakness in the key euro zone market. Backsliding on the reform effort could be disastrous, but new IMF and EU regimens offer incentives to stay the course.
By James C. Cooper & Kathleen Madigan
Before it's here, it's on the Bloomberg Terminal.
LEARN MORE