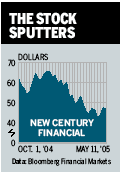 Even though New Century Financial (NEW ) beat analysts' first-quarter forecasts, shares have fallen to 46.28, down from 66 in December. The 30% drop, caused by fears of rising interest rates and a housing slowdown, has dismayed investors such as Greenlight Capital, which owns 9.1%. In an Apr. 28 13D filing, the group urged the subprime mortgage lender to boost its stock price. Greenlight said it might seek changes in New Century's structure and strategic direction -- and in the board and management. "The Greenlight move may be the catalyst to push the stock into play,"says Vincent Carrino of Brook-haven Capital Management, which owns shares. New Century is doing well in a difficult environment -- and is attractive to investment banks, he adds. The stock, he says, is cheap at five times 2005 earnings forecasts, with a dividend yield of close to 15%. Large institutions borrow at lower rates, he notes. So if any of them bought New Century, the move could cut its borrowing costs -- and jack up earnings. Scott Valentin of investment firm Friedman, Billings, Ramsey (FBR ) -- which has done banking for New Century and owns shares -- says Greenlight's filing "increases pressure on management to enhance shareholder value." Based on his earnings estimate of $8.98 a share for 2005 and $10.11 for 2006, Valentin rates the stock outperform. His 12-month price target: 85. New Century spokeswoman Erin K. Freeman says, "Our goal is to increase stockholder value and we are always open to feedback from our constituents." A Greenlight spokesman says, "Our filing speaks for itself."
Note: Unless otherwise noted, neither the sources cited in Inside Wall Street nor their firms hold positions in the stocks under discussion. Similarly, they have no investment banking or other financial relationships with them.
By Gene G. Marcial
Before it's here, it's on the Bloomberg Terminal.
LEARN MORE