The GDP Report: No Reason To Sweat
Upon closer study, the data indicate that America's slowing will be short-lived
Investors have good reasons to be jittery right now. Uncertainties over oil, inflation, and actions by the Federal Reserve are weighing heavily on the prospects for economic growth and corporate profits. But the overwhelmingly negative response in the financial markets and the media to the Apr. 28 news that real gross domestic product grew at a 3.1% annual rate in the first quarter bordered on hysteria. After all, 3.1% is within the range for the economy's long-run growth rate, and the pace was sufficient to produce nearly 500,000 new jobs last quarter and a gain of more than 12% in corporate profits. More important, investors may have missed the report's positive information about the outlook.
On the surface, the report seemed to tell a worrisome tale. Inventories surged at a time when demand for final products weakened. The growth in business outlays for equipment and construction slowed sharply. And a wider trade deficit subtracted from growth as exports failed to keep up with imports. The report confirmed that costlier energy has sapped some of the economy's momentum. Moreover, uniformly poor-looking data for March gave second-quarter GDP growth a low starting point.
If the top-line numbers told the entire story, investors might be justified in running for cover. But this is one report that requires some digging into. A close read of the GDP data shows that the economy remains fundamentally sound. That's especially true, given that oil prices have been flirting with sub-$50 per-barrel levels in recent days. Plus, gasoline prices in early May had fallen below their April peak for three consecutive weeks. Add in the possibility that an early Easter and bad weather distorted some of the March data, and it seems likely any soft patch will be temporary.
DESPITE THE GENERALLY DOWNBEAT interpretations of the GDP report, the Fed has not changed materially its view of the economy's growth prospects. In fact, in raising interest rates by another quarter point on May 3, policymakers seemed more uneasy about inflation than about any energy-related impact on demand. A key change in the Fed's latest statement suggested greater concern that energy prices were working their way into other prices.
Investors' biggest worries about the GDP report focused on capital spending and inventories. Outlays for new equipment grew at an annual rate of 6.9%, a two-year low, after surging 18.4% in the fourth quarter.
But the slowdown was concentrated in one sector, transportation equipment, where spending fell at a 20% annual rate. After surging 117% in the fourth quarter, spending on aircraft plunged 73% in the first, and business outlays for autos swung from a 39% rise to a 22% drop. Excluding transportation, which accounts for 14% of all equipment outlays, spending rose at about a 12% annual rate, little changed from the growth achieved during the past 1 1/2 years.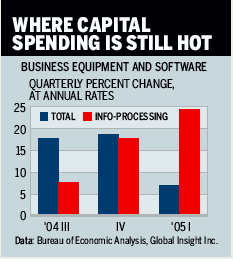 In contrast, demand for high-tech gear, which makes up more than half of all equipment outlays, accelerated. Spending for computers and other information-processing machines grew at a 24.3% pace, up from 17.7% in the fourth quarter. If businesses were pulling in their horns, tech outlays would not have posted their strongest gain in 1 1/2 years.
The dichotomy partly reflects a rush of spending in the fourth quarter prior to the expiration of the government's special depreciation allowances on machinery purchased before the end of last year. Long-lived traditional machinery appears to have benefited the most from that tax incentive, which apparently pulled more spending into the fourth quarter than analysts had predicted. The incentive to use the provision was magnified by last year's acceleration in prices for industrial machinery. If so, a bounce back in equipment outlays this quarter is a good bet.
THAT'S BECAUSE PROFITS and demand drive capital spending, and both are holding up well. In particular, despite all the hand-wringing over consumers, household spending grew at a healthy 3.5% annual rate last quarter, a not-so-steep falloff from the fourth quarter's 4.2% pace. And in April, even amid rising gas prices, consumers bought new autos at an annual rate of 17.5 million, the strongest showing so far this year.
Firm demand is also the chief reason the first-quarter speedup in inventory growth should not be alarming. At first blush, an acceleration in the pace of inventory building from $47.2 billion in the fourth quarter to $80.2 billion in the first quarter suggests that stockpiles have suddenly ballooned out of control.
But bear in mind three key points: First, the ratio of nonfarm inventories to final business sales barely rose in the first quarter, suggesting that stock levels remain in line with demand. Moreover, that ratio is well below its long-term downtrend, implying that the current level of inventories is far from excessive.
Second, U.S. factory output last quarter grew at a 3.3% annual rate, down from a 4.8% clip in the fourth quarter. That slowdown decreases the likelihood of an unwanted inventory buildup. Instead, manufacturers seem to be adjusting quickly to demand's oil-related soft patch, helping to reduce the possibility of a problem.
Last, data in recent years show a strong connection between the growth of inventories and imports. In the first quarter imports of nonpetroleum goods grew 17.7%, up from the fourth quarter's 9.8% pace. To the extent that the inventory jump reflects more imports, any reduction in U.S. inventories will depress foreign output. So in future quarters, any drag on GDP from slower inventory growth may well be offset partly by a cooler pace of imports.
NONETHELESS, THE FIRST-QUARTER jump in imports took a giant bite out of GDP growth. Because imports rose more than twice as fast as the 7% increase in exports, the consequent widening in the trade deficit, by itself, subtracted 1.5 percentage points. In other words, last quarter's real GDP growth would have been 4.6% if the deficit had held steady.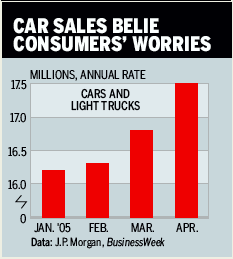 While that widening represents lost output to U.S. producers, it also shows that U.S. demand remains healthy. The financial markets paid much attention to the GDP report's weak 1.9% increase in final demand for U.S. output last quarter, but U.S. demand for both domestic and foreign products climbed a much faster 3.2%. This rate indicates that consumer spending in the U.S. remains well-supported by the recovery in employment growth and the additional income that more jobs are creating.
Indeed, the main risks to the outlook are still jobs and oil. If new hiring stays closer to 100,000 jobs a month than to 200,000 or if oil bounces back toward $60, the economy will have significant drags to overcome. Barring these negatives, though, investors should soon be able to stop worrying about the economy. A careful reading of the first-quarter GDP data strongly suggests that the current soft patch won't last long.
By James C. Cooper & Kathleen Madigan
Before it's here, it's on the Bloomberg Terminal.
LEARN MORE