India: Taking The Inflation Threat Seriously
In an unexpected move, the Reserve Bank of India lifted a key interest rate. The central bank's aim is to keep a lid on the price pressures building in the economy. What's more, the hawkish tone of the RBI policy report may be an indication of more hikes to come.
The RBI raised the rate it pays banks for overnight funds from 4.75% to 5%. The move follows the bank's efforts to curb money supply growth. The central bank's purpose is to reduce excess liquidity after several years of low interest rates that triggered the current boom in lending.
Along with the rate hike, the RBI issued its Annual Policy Statement. Central Bank Governor Y. V. Reddy stated that he is concerned high oil prices are here to stay, which could prompt a more permanent spiral of upward price pressures.
Some economists in India believe inflation remains benign, with wholesale prices up 5.64% from the previous year for the week ended Apr. 16, compared with 4.68% in the same period in 2004. The economists point to signs of slower global growth as a reason India will avoid a self-sustaining cycle of rising prices.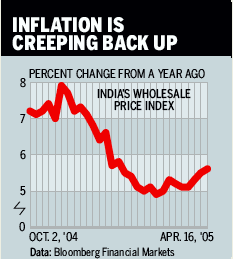 Inflation risks, though, appear to be on an upward trend. The government is holding down domestic energy prices but is expected to allow some hikes in petrol prices, just as it did in 2004. Last year's move fed a surge in inflation.
Plus, low interest rates and a stronger rupee have boosted consumer demand. Vehicle sales jumped 16.6% in the fiscal year ended in March. Production of consumer durable goods in February rose 11.2% from the year before while capital goods output rose 4.5%. Morgan Stanley (MWD ) calculates that the recent surge in imports is dominated by an influx of consumer-related goods. The data imply demand is outpacing capacity growth, and there are signs that factories are raising prices.
The RBI also said it will meet quarterly instead of twice a year. While another move is not expected to happen at the newly scheduled July meeting, the central bank will have a better read on where inflation is headed and could once again prove the consensus view wrong.
By James Mehring in New York, with Manjeet Kripalani in Bombay
Before it's here, it's on the Bloomberg Terminal.
LEARN MORE