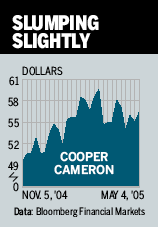 After a spectacular run, energy stocks are down 10% since early March, the indexes show. But that doesn't mean all the riches have been claimed. Shares of oil field services outfit Cooper Cameron (CAM ), which have trailed the sector's gains, have a big surge coming, says W. Kevin Wood, an analyst at Susquehanna Financial Group. The company is a leader in the next big phase of new production: installing "trees" -- the multivalve, heavy-duty contraptions that sit atop wells. Cooper is second only to FMC Technologies (FTI ) in making super-sturdy subsea versions. Now oil and gas companies are queuing up to sign contracts for at least 10 major undersea installations in the next 18 months, Wood notes. Cooper shares haven't taken off in anticipation of the work, because the company has lost business to FMC recently. (Cooper is up only 10% -- vs. 50% for FMC since mid-2003.) But that could change fast. Cooper has just overhauled its marketing to offer what customers want: full-service packages that include up-front engineering and integration of its trees with gear connecting to pipelines. Wood expects Cooper to get nearly half the new business, driving the stock, now at 56, higher. Analysts at investment bank Hibernia Southcoast Capital recently put a price target of 70 on the stock. Wood won't name a target, but he notes the stock traded at 82 in 2000 when the company earned only about $2.17 a share vs. the $3.55 he expects in 2006.
Note: Unless otherwise noted, neither the sources cited in Inside Wall Street nor their firms hold positions in the stocks under discussion. Similarly, they have no investment banking or other financial relationships with them.
By David Henry
Before it's here, it's on the Bloomberg Terminal.
LEARN MORE