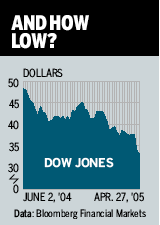 Is Dow Jones (DJ ), publisher of The Wall Street Journal and Barron's, buyout bait? It's a question that Wall Street has raised regularly over the years, but some pros think the case is stronger this time. One major New York investor, who requested anonymity, has written to the board urging a sale. He wants a change in management which, he argues, overpaid in buying MarketWatch for $528 million. The money should have been used to buy back shares or boost the dividend, he says.
The stock has dropped 50% in the past five years, while the Dow Jones industrial average is off just 3.8%. "It's ridiculous that it has underperformed for so many years," says the investor. Since last June the stock has slumped from 48 to 32. William Bird of Smith Barney is the latest analyst to downgrade Dow Jones to a "sell." Earnings have been sluggish, and ad revenues lackluster. If the stock continues to fall, "Dow Jones could become an acquisition target," says George Putnam III, editor of The Turnaround Letter -- even though the Bancroft family controls the voting stock. "We've seen instances in which the younger generation has forced the sale of a family company," notes Putnam.
Roy Hammer, a trustee for the Bancroft family trust, says "we're not looking to sell the company." With a market cap of just $3 billion, Putnam notes, Dow Jones is "an attractive target for a larger company" or a private equity group. Some investors, such as T. Rowe Price Group (TROW ), which owns 15%, protested a recent move by Dow Jones that allows the Bancrofts, who have 62% of voting rights, the flexibility to sell as much as half their current stake and still retain control. Chief Operating Officer Richard Zannino wouldn't comment on buyout talk. But, he says, at 33-34, "our stock is a heck of a deal -- a bargain." The investor urging a sale says Dow Jones assets are worth 70.
Note: Unless otherwise noted, neither the sources cited in Inside Wall Street nor their firms hold positions in the stocks under discussion. Similarly, they have no investment banking or other financial relationships with them.
By Gene G. Marcial
Before it's here, it's on the Bloomberg Terminal.
LEARN MORE