Britain: Skittish Consumers, Stalled Policy
British consumers are taking a breather, and that has put monetary policy in a holding pattern for now.
Britain's economy slowed in the first quarter, with real gross domestic product rising at a 0.6% quarterly rate from the fourth, when it increased by 0.7%. Industrial output dipped 0.1%, and service production grew 0.8%, the smallest gain in nearly two years.
Consumer spending lost steam over the course of the quarter. In March, real retail sales unexpectedly fell, by 0.1%. Sales were up only 2.7% from year-ago levels, the weakest showing in 11/2 years. Slowing demand is hurting manufacturers. Their April orders fell to their lowest reading since late 2003.
Although consumer confidence is still high, the demand slump is worrying Bank of England policymakers. In its April summary of business conditions, the bank said some retailers attributed their weak sales to expectations of higher interest rates, as well as uncertainty about the upcoming budget and the May 5 general election. Plus, higher energy prices held down spending on other items.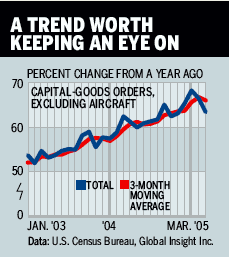 Prime Minister Tony Blair and his Labour Party are campaigning on the economy's strength. But the latest data suggest the British economy is unlikely to hit the growth target of 3% to 3.5% set by the government.
For the BOE, the problem is that demand may be slowing too much, even as inflation is advancing. In March, consumer prices were up 1.9% from year-ago levels. That's close to the BOE's 2% target, and policymakers have already acknowledged inflation will probably go over the target within the next two years. In addition to rising energy costs, the BOE has cited above-normal capacity utilization rates and a shortage of some skilled labor as exerting upward inflationary pressures. Pay gains are also rising, but some of those increases are being offset by improved productivity.
Uncertainty about future consumer spending means the BOE will most likely keep interest rates unchanged at its May 9 meeting. But if inflation continues to rise and consumers do not pull back sharply, the betting is that policymakers will feel compelled to hike rates again in the summer.
By James C. Cooper & Kathleen Madigan
Before it's here, it's on the Bloomberg Terminal.
LEARN MORE