What Other Biotechs See In Bioenvision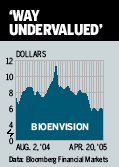 It's "an underappreciated story," says JPMorgan Chase (JPM ). "Way undervalued," says CIBC World Markets (BCM ) -- and George Soros owns 14% of the shares. They are referring to Bioenvision (BIVN ), a small biotech that has yet to make money. The stock has fallen from 11.22 on Nov. 26 to 5.96 on Apr. 20. Investors were disappointed over a rumored deal that failed to materialize. (When featured in this column on Dec. 6, 2004, it was at 9.35.) Bioenvision's chief product, Clofarabine, O.K.'d by the Food & Drug Administration for childhood leukemia, has shown positive indications for other hematological and solid-tumor cancer. With anticipated European approval for Clofarabine coming soon and with likely profit-ability in 2007, "we think Bioenvision is undervalued by several metrics," says JPMorgan's Ronald Renauld Jr., who rates it "overweight." JP Morgan has done banking for Bioenvision. Global biotech Genzyme (GENZ ) owns U.S. marketing rights to Clofarabine. Given Genzyme's interest in Clofarabine, many investors expected it to buy Bioenvision outright. People close to the company say that with no deal in sight, other drugmakers have inquired whether Bioenvision is interested in a merger.
Note: Unless otherwise noted, neither the sources cited in Inside Wall Street nor their firms hold positions in the stocks under discussion. Similarly, they have no investment banking or other financial relationships with them.
By Gene G. Marcial
Before it's here, it's on the Bloomberg Terminal.
LEARN MORE