U.S.: Why Investors' Heads Are Spinning
The recovery is showing signs of higher inflation and a bit slower growth
The expansion faces two decidedly different risks: Inflation may be rising above an acceptable pace. Or growth may be slowing too much. Investors seem to be especially perplexed over which direction the economy is headed. However, the latest readings on the economy indicate that, except for the negative effects from oil, the trends in growth and inflation are no cause for concern.
The blue-chip blues first became evident in early February. Back then, inflation was the major concern. Demand was hot, oil prices surged, and the producer and consumer price indexes began to edge up. Even news from the Federal Reserve indicated that businesses were enjoying more pricing power. These yellow lights raised investor fears that the Fed would hike interest rates faster than the expected pace of a quarter-point at each meeting.
Recently, a spate of dismal-looking reports caused Wall Street to shift attention to an economic soft patch, which could hurt revenues. The March data have almost all been weaker than expected -- from job growth to retail sales to the latest two disappointments, a drop in factory output and a plunge in housing starts.
Then on Apr. 20, worries shifted back to inflation. Because of higher oil prices, the total consumer price index rose 0.6% in March from February. And the core CPI, which excludes food and energy, increased a larger than expected 0.4%.
Later that day, the Fed gave its own assessment of the economy in its Beige Book. The report, a roundup of activity among the 12 bank districts, said business activity continued to expand into early April and the assessments of manufacturing were "largely positive."
Of particular interest was the mention of building price pressures in the face of higher energy costs. The Beige Book said businesses "were able to pass at least a portion of cost increases along to their customers." The report's overall tone did little to change expectations that the Fed will lift the federal funds rate by another quarter point, to 3%, at its May 3 policy meeting.
FOR NOW, THE FEARS about the economy look overblown. Yes, growth is easing from the 4.1% averaged over 2003 and 2004. But growth of 3.5%, what's expected for 2005, is respectable. Even if U.S. growth is dipping closer to a 3% annual rate in the second quarter, that's a pace at which the euro zone and Japan would love to expand.
At the same time, the latest trends in prices seem to show that inflation, though on an upward trend, is not running out of control. First, the surprise rise in the core CPI stemmed from unusually big increases in the prices of hotel rooms, airline tickets, and apparel. Second, price trends further back in the production pipeline were more subdued. Prices for finished producer goods jumped 0.7% in March from February, but that was largely because of energy costs. The core PPI was up a smaller 0.1%.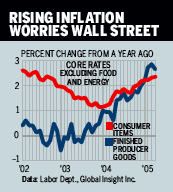 Meanwhile, oil prices have been on a small downtrend. On Apr. 18 the price of crude was down to $50.30 per barrel from a record $57.27 on Apr. 1. It bumped up to above $52 by Apr. 20 on supply fears, but that price was still below the March average of $54.63. And a gallon of gasoline averaged $2.24 nationally in the week ended Apr. 18, a drop of 4 cents from the previous week, although experts expect gas prices to resume rising as the peak summer driving season approaches.
Even so, there's little doubt that inflation is picking up. The big question is whether inflation will gain so much traction that it becomes a problem, and the Fed has to hike interest rates faster than expected. So far at least, there is little to suggest that will be the case. Globalization continues to exert competition that keeps price hikes in check; wage growth has not increased much despite firmer labor markets; and productivity, while slowing, is still healthy enough to keep unit labor costs from increasing rapidly.
CLEARLY, HIGHER PUMP PRICES have curbed consumer demand, as shown by softness in March retail sales and weekly store surveys for early April. They are also making consumers feel more pessimistic about the economy.
Businesses, in turn, are starting to wonder about the future of consumer demand. That uncertainty may have prompted manufacturers to tap on the brakes in March. Total industrial production rose 0.3% because cold weather pushed up utility use. But factory output fell 0.1% as producers of some consumer-related goods cut back after posting gains earlier in the first quarter. Production of autos, home electronics, food and tobacco, and consumer chemical products all fell last month.
Output of construction supplies also slipped in March, probably a result of the plunge in homebuilding. Housing starts fell 17.6%, but milder weather earlier in the winter had allowed starts to climb to a 21-year high in February. With mortgage rates back below 6%, demand remains solid. In fact, the unadjusted number of permits on homes not yet started jumped in March, suggesting snow and heavy rains forced builders to hold off on some new projects. If so, then starts will recover strongly in April.
Rebounds in other sectors, primarily manufacturing, will depend largely on consumer behavior. The recent fall in oil prices will help. Moreover, consumer confidence -- and spending -- could bounce back if the May 6 job report shows that hiring in April was much stronger than the 110,000 new jobs created in March.
EQUALLY IMPORTANT to the industrial outlook will be how companies manage their inventories. If businesses find themselves with too many goods already in stock, they will cut back on orders, and output may remain in the doldrums in the second quarter.
In February total inventories held by manufacturers, retailers, and wholesalers rose a modest 0.5%. Although sales dropped 0.4%, the ratio of business inventories to sales stood at an extremely lean 1.31. For the past year, the ratio has held within a very low range of 1.3 to 1.33.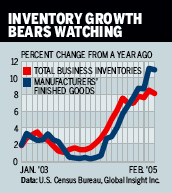 But below the top-line data, merchandise appears to be backing up in parts of the distribution chain. Factory stockpiles of finished goods are up 11% from the past year, compared with an increase of 8.2% for all business inventories. Likewise, wholesale inventories are up 11.1%, and that sector's inventory-sales ratio has been inching higher since last April. Inventories don't yet look to be a trouble spot. A rebound in demand will clear out the overhang quickly. If, however, the economy slows too much, an excessive inventory buildup will be an initial sign of danger.
What investors want, though, is a clear view of where the economy is headed. The problem: The negative impact from oil may muddy the upcoming data for both prices and demand. For the next few weeks at least, investors may well act like a one-eyed cat watching two rat holes. Their shifting focus between inflation and growth worries suggests the financial markets will face more volatility in the second quarter.
By James C. Cooper & Kathleen Madigan
Before it's here, it's on the Bloomberg Terminal.
LEARN MORE