Less Debt For Asta To Forgive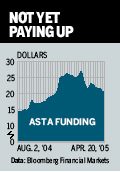 When Congress passed the Bankruptcy Abuse Prevention law in April, Gary Stern was a happy camper. Asta Funding (ASFI ), of which he is CEO, buys distressed debt for a few pennies on the dollar. "This new law is a big win for us. It will boost our collection rate," says Stern, who owns nearly 10% of the stock. Steve DeLaney of investment firm Ryan Beck (it has done banking for Asta) agrees: The law lessens the highly risky debts Asta ends up buying. That's because it cuts rampant Chapter 7 bankruptcies, which let filers eliminate all unsecured debt -- accounting for 70% of filings. The remaining 30% is Chapter 13 cases, where part of the debt gets repaid in three to five years. The new law will increase Chapter 13 filings, DeLaney says, and with fewer Chapter 7 filers, credit-card issuers will have more viable debt to sell Asta. DeLaney rates Asta, now at 20.40, "outperform" and calls it "the most attractive of the pure-play debt buyers." He projects earnings of $1.88 a share in 2005 and $2.15 in 2006, vs. 2004's $1.57. Jed Gore of Sunova Capital, which owns 4%, says Asta's management, led by CEO Stern, is "trustworthy and effective." Asta was featured in this space a year ago at 18.
Note: Unless otherwise noted, neither the sources cited in Inside Wall Street nor their firms hold positions in the stocks under discussion. Similarly, they have no investment banking or other financial relationships with them.
By Gene G. Marcial
Before it's here, it's on the Bloomberg Terminal.
LEARN MORE