Argentina: A Tricky Task For The Central Bank
Argentina's growth continues to enjoy momentum. The export-oriented agricultural sector and rising domestic demand are driving the expansion. The government's decision not to service its foreign debt for the past three years has also lifted growth. But the country's rapid recovery may force the central bank to become more aggressive.
In March industrial output rose a surprisingly strong 8.7% from the year before. Every segment but tobacco posted gains. Auto output jumped 30% after maintenance work cut production in February.
The industrial rebound has helped consumers get past the 2002 peso devaluation. A spending rebound is visible from middle-class neighborhoods of Buenos Aires to tourist spots and the agricultural provinces of the pampas. Job growth and flexible payment options mean that for the first time in years, Argentines are able to replace cars and appliances. In 2004 sales of household goods jumped 71.5% and auto sales doubled.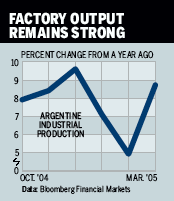 Strong demand, however, is bringing inflationary pressures. Prices jumped 4% in the first quarter alone. Capacity bottlenecks, particularly in the steel, oil-refining, and paper industries, are building. They could slow output and raise price pressures. Economy Minister Roberto Lavagna has warned that inflation could top 11% this year.
One result is an erosion of workers' purchasing power. In April consumer confidence took its biggest monthly tumble in a year. Moreover, demands for wage hikes are getting louder, particularly as rents for middle-class housing in some popular Buenos Aires neighborhoods are soaring by as much as 50% a year.
The central bank's ability to keep a lid on inflation will be key to sustaining the recovery. Some private economists believe the central bank should become more aggressive in raising interest rates, which haven't kept up with the recent acceleration in prices. Rate hikes would delay banks' still-cautious return to the mortgage business and boost upward pressure on the currency, but they may be the most effective way of ensuring economic stability.
By Colin Barraclough in Buenos Aires, with James Mehring in New York
Before it's here, it's on the Bloomberg Terminal.
LEARN MORE