A Clear Signal At Clear Channel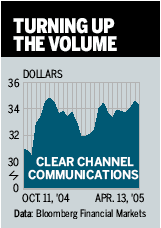 Satellite Radio and MP3 players are drowning out some investors' interest in radio's long-term potential. Still, Clear Channel Communications (CCU ), a media company that draws 41% of revenues from its more than 1,000 radio stations, has seen its stock bounce from 29 in October to 34.15 on Apr. 13. Behind the comeback are "steps such as limiting commercials -- and diversifying programming," says Sarat Sethi of investment boutique Douglas C. Lane.
Management has focused on boosting its core business and generating strong cash flow. Clear Channel's other businesses -- outdoor advertising and live entertainment production -- are also expected to drive growth. Investors don't yet recognize radio's growing strength and are overly concerned about competition from satellite radio and music players, he says. In two to three years, he figures, Clear Channel will generate $2.60 a share in free cash flow, and he sees the stock hitting 44 in 12 to 18 months.
Maurice McKenzie of investment bank Friedman Billings Ramsey forecasts earnings of $1.47 a share in 2005 and $1.63 in 2006, up from $1.41 in 2004. He believes Clear Channel will remain "the dominant operator" in domestic radio, outdoor, and live entertainment. McKenzie rates the stock only "market perform," however, because, he thinks, it isn't yet clear how advertisers will react to Clear Channel's new policy of cutting commercial airtime -- and raising the ad rates.
Note: Unless otherwise noted, neither the sources cited in Inside Wall Street nor their firms hold positions in the stocks under discussion. Similarly, they have no investment banking or other financial relationships with them.
By Gene G. Marcial
Before it's here, it's on the Bloomberg Terminal.
LEARN MORE