U.S.: Why Profits Are Defying Gravity
More pricing power and better foreign earnings will fuel the bottom line
For baseball fans, April means Opening Day. For investors, it means another earnings season is in full swing. But regardless of which company you're rooting for, a broader trend in corporate profits bears watching as the year develops: Since the second quarter of 2003, earnings have consistently surprised analysts on the high side of expectations, and several forces -- some old and some new -- are in place to keep profits growing at a healthy clip.
Last year, analysts and strategists concluded that the profits bonanza was over and that investors should ratchet down their expectations for earnings growth into single-digit territory. Yet at the end of last year, fourth-quarter earnings for the Standard & Poor's 500-stock index grew close to 20% from the year-earlier quarter. Now analysts expect the gain in first-quarter earnings to average 8.2%, according to the latest survey by Thomson First Call (TOC ). It's a good bet that profit growth will beat that projection as well.
To be sure, earnings growth is slowing. That's a typical trend when an economic expansion matures. Plus, it's increasingly difficult to rack up strong gains compared with the zowie levels posted in the previous year.
However, a few factors are at work that many analysts didn't count on. True, productivity has slowed, but it hasn't collapsed, as businesses remain intent on managing their costs in highly competitive markets. That's why, as the March employment report showed, job growth is still the slowest of any post-World War II recovery. Also, an increasing percentage of profits is coming from operations abroad, not only due to the favorable effects of the dollar's decline and new tax treatment of foreign earnings but also because of the greater presence of U.S. businesses in foreign countries.
Perhaps most important, demand by consumers and businesses remains much stronger than expected, a factor that has fostered a new trend: greater pricing power. The ability to lift prices will help to offset rising costs and to allow further expansion in profit margins.
THE ECONOMYWIDE ROUNDUP of fourth-quarter corporate profits from the Bureau of Economic Analysis highlights several of these points. The BEA data encompass earnings from thousands of companies and are adjusted for consistent treatment of inventory values and depreciation, as well as seasonal patterns.
Some bounceback from the third-quarter showing was expected. Hurricane losses had caused earnings to drop 4.8% from the second quarter. What was not expected was that fourth-quarter earnings would rebound by a hefty 13.5% from the summer, the largest quarterly increase in 12 years. The gain left profits for the full year up 15.7% from the year before, close to the 16.8% pace for all of 2003.
Even after adding the BEA's $79.7 billion estimate of hurricane losses back into the third-quarter level, fourth-quarter profits were up by 5.9%, the best showing of 2004.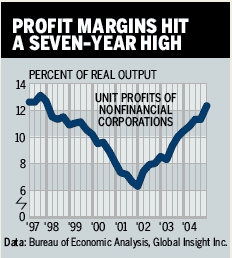 In addition, profit margins widened sharply. Profits per unit of output for nonfinancial companies rose to 12.3% in the fourth quarter, the highest in seven years. What this means is that businesses are making more profit from every unit of output sold.
Fatter margins highlight what's new about profits. Although cost-cutting never goes out of fashion, companies are more vigilant about costs than was generally expected for 2005. And on top of that, businesses are enjoying better pricing power than was forecasted.
YOU DON'T HAVE TO LOOK any further than the slim rise of 110,000 jobs in March to see that companies remain cautious about the cost of new hires and that they are not about to let productivity growth slip too far.
For the quarter, overall hours worked increased at a 2% annual rate from the fourth quarter. If the economy grew by about 4% last quarter, as is widely anticipated, productivity would appear to have risen at about a 2% clip. That pace is a slowdown from last year, but it's still close to the elevated long-run trend of recent years. For profits, productivity growth at that rate will help to hold labor costs in check.
But cost consciousness doesn't explain all of the surprisingly small rise in March payrolls. Some of the shortfall from the expected gain of more than 200,000 may be simply the normal ups and downs in the monthly numbers. Note that, in the past year, monthly gains have ranged from 83,000 to 337,000, for an average increase of about 180,000 per month. That clip is far below the average pace seen at this stage of past expansions, an indication of the new corporate mindset on costs.
Corporations are keeping an eagle eye on holding down their labor costs because the prices they're paying for other goods and services are inching up all along the production pipeline. The latest reports from the Institute for Supply Management show service and manufacturing companies are paying more for materials and services.
For manufacturers alone, the ISM's price-paid index jumped from 65.5% in February to 73% in March, the highest reading since November. Of course, one company's higher production costs are another's pricing power. A survey of 1,600 small-business owners by PNC Financial Services Group (PNC ) showed that 50% planned to raise prices in the first half, up from 34% last fall. And coming at a time of modest unit labor cost gains, that power will create a double lift to profits in 2005.
ANOTHER INCREASINGLY CRITICAL aspect of the U.S. profit outlook is globalization. U.S. multinationals have been racking up a record level of profits from their foreign operations, prompting them to invest even more in their overseas affiliates. That trend should continue in 2005, in part because of the dollar's continued decline and because U.S. multinationals view overseas economies as the best new sources for revenue.
In 2004, profits of U.S. corporations earned in the U.S. rose 7%, while U.S. receipts from the rest of the world increased by 26%. Although foreign receipts make up about 30% of all profits of U.S. companies, that share is rising, and last year earnings from abroad accounted for 58% of the growth in the earnings of U.S. businesses.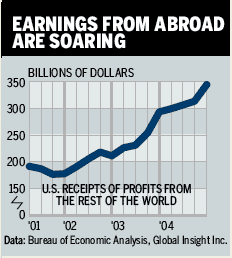 Given the recent surge in overseas direct investment by U.S. companies, it's not surprising that foreign earnings are soaring. Robert J. Barbera, chief economist at consultants Hoenig (ITG ), believes the rise in foreign earnings reflects "the role U.S. multinationals are playing in the boom in Asia." The flip side of this trend is that "the earnings gains are generating strong investment and employment in Asia, not the U.S.," notes Barbera. His observation connects the dots to how a better profits outlook will keep job growth from matching the strong performance of past recoveries.
However, bear in mind that job growth in 2005 will be the strongest for any year so far in this expansion. The economy is balancing out the benefits of growth for both workers and businesses. And when the rush of first-quarter earnings reports begins, don't be surprised if a lot of companies, especially multinationals, hit some expectations out of the park once again.
By James C. Cooper & Kathleen Madigan
Before it's here, it's on the Bloomberg Terminal.
LEARN MORE