Italy: What's Keeping The Brakes On Growth
Did the Italian economy shrink for a second consecutive time in the first quarter? The monthly data seem to hint that business activity contracted again over the winter.
The latest news shows that business confidence in March fell to its lowest reading since July, 2003, with drops reported in orders and production. Consumers also felt gloomier last month, with their confidence index falling for the fourth time in five months. March car sales fell 8.6% from year-ago levels. And the purchasing managers' index for the service economy averaged 52.3% in the first quarter, below its 53.4% reading in the fourth quarter.
A contraction in the first quarter would follow a downward revision to real gross domestic product at the end of 2004. Fourth-quarter real GDP fell 0.4% -- not the 0.3% first reported.
The big drag on growth is coming from exports, which are being hurt by the rising euro, while manufacturers are facing higher costs, especially for energy. Exports account for about 30% of Italy's economy.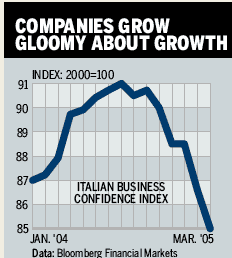 On Apr. 4, the European Union pared its forecast for Italy's 2005 growth to just 1.2%, from 1.8%. And Italian Finance Minister Domenico Siniscalco recently said growth would come in at just 1.5%, far short of the government's previous target of 2.1%.
Even a 6 billion euro ($7.8 billion) tax cut has not boosted consumer spending this year. But the cut exacerbates Italy's fiscal problems. The euro zone's new Stability & Growth Pact gives more leeway to deficit-ridden nations such as Italy, Germany, and France. However, the agreement frowns on one-time budget fixes. And the government's plans so far seem to be more asset sales to reduce debt. The latest holding on the block is another 11.5% stake in energy company Enel (EN ).
The economy's woes are giving Prime Minister Silvio Berlusconi political problems. His Forza Italia party lost ground in the April regional elections. He has vowed to pursue more tax cuts this year. The aim is to pump up domestic demand to offset the export slump. But it is no coincidence that the cuts, if passed, would come before Berlusconi stands for reelection in 2006.
By James C. Cooper & Kathleen Madigan
Before it's here, it's on the Bloomberg Terminal.
LEARN MORE