Doral -- After The Hammering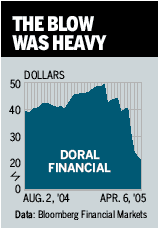 When the street turns on you, watch out. Doral Financial (DRL ), the top mortgage lender in Puerto Rico, found out the hard way: Its shares plunged from 38 in late February to 21 on Mar. 15, when it filed a 10-K for 2004. That report raised concerns about the quality of earnings in 2005 -- as analysts questioned the assumptions Doral used to value $879 million worth of certain securities -- in light of the rise in interest rates. Analysts downgraded the stock and cut earnings estimates for 2005-06. But some pros took advantage of the drop: At Carret Asset Management, Donald Gimbel doubled Carret's stake, to 850,000 shares. He first bought last year, when the price was 30. Doral was featured in this column on May 3, when it stood at 32. By January, it had bolted to 49. Despite the grim forecasts, Gimbel sees earnings of $5 a share in 2005 and $5.50 to $6 in 2006, vs. 2004's $3.95. Gimbel says Puerto Rico's housing shortage will keep mortgage demand strong, so the stock should bounce back to 49 in a year. Joe Gladue of investment bank Cohen Brothers, who rates the stock a buy, says it's fallen far below what is reasonable for a company originating $8 billion in mortgages a year. The business remains robust, he says, and Doral plans to sell the controversial securities.
Note: Unless otherwise noted, neither the sources cited in Inside Wall Street nor their firms hold positions in the stocks under discussion. Similarly, they have no investment banking or other financial relationships with them.
By Gene G. Marcial
Before it's here, it's on the Bloomberg Terminal.
LEARN MORE