An Energy Driller Worth Exploring
The latest jump in oil prices gives most everyone multiple reasons to frown. One more for me is the parallel pop in prices of energy stocks. It's not that I'm down on the industry: I bet crude will stay far above the $25-a-barrel level that seemed plausible to so many last year. I just want to see good oil and gas stocks cheaper.
That's why I've been tracking a new and relatively unknown one, Denver-based Bill Barrett Corp. (BBG ) If the name faintly rings a bell, you may recall Barrett Resources, a longtime Rocky Mountains oil-and-gas driller. Founded in 1981 by noted geologist William Barrett, in 2001 it sold out to Williams Cos. for $2.8 billion. Five months later, Barrett was at it again, forming Bill Barrett Corp. with his cohorts from Barrett Resources, including two sons and a brother-in-law. Focused on finding natural gas, it came public in December at $25 a share and soon hit $35. It caught my eye again in late March when it dipped to $26.
Scouring rugged terrain for the right place to drive a drill bit is risky business, no question. It's ordinarily far outside my range of investment interests, among such other chancy ventures as genome mapping and teenage fashion-gazing. Every wildcatter drills plenty of dry holes, even 75-year-old Bill Barrett, who was named the American Association of Petroleum Geologists' Explorer of the Year in 2003. Yet I see his latest company, where he's CEO, as a reasonable opportunity, in part for how it is managing the inevitable risks.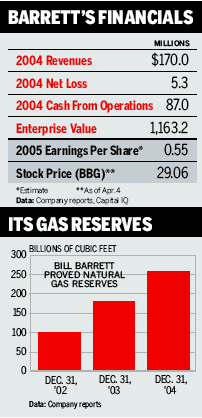 How? First, by opportunistic asset-building. Soon after it bought Barrett Resources, Williams sank into a liquidity crisis prompted by Enron's fall. Forced to raise cash fast, it put on the block some fields in Wyoming's Wind River Basin it had just gained via Barrett Resources. Bill Barrett knew them well, and in March, 2002, took them for $74 million. "It was clearly a distressed situation, and it allowed us to be the only logical buyer," Thomas Tyree, Bill Barrett's chief financial officer, told me. In three deals over the next year, the company spent an additional $105 million on fields in Wind River and three other areas of the Rockies. Then Calpine, another Enron-affected energy outfit, last summer dumped properties in Colorado's Piceance Basin, an area Barrett Resources had pioneered. Bill Barrett's local smarts again let it act fast, closing a $137 million deal in weeks.
It's easy for drillers to run up debts as they gather acreage and reserves. In fact, Bill Barrett borrowed $150 million to swing the deal with Calpine. But with the $347 million it raised in its December initial public offering, it paid back that loan along with the rest of its borrowings. At yearend, the balance sheet showed $100 million in cash, no debt, and stockholders' equity of $620 million.
Although the IPO was heavily oversubscribed, the insiders did not exploit the chance to cash in some shares. Besides Bill Barrett and his family, the pre-IPO stockholders included partnerships organized by Goldman Sachs (GS ), JPMorgan (JPM ), and Warburg Pincus, which together now control 49% of the equity and are each seated at the directors' table. None of them is known for resisting the urge to trade paper for cash. When post-IPO trading restrictions on their shares lift in June, you might see some insider sales, particularly if the stock keeps climbing from its recent $29. But if the stock is anyplace near where it came public, don't count on it.
Before it's here, it's on the Bloomberg Terminal.
LEARN MORE