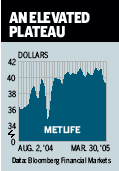 Jonathan Ferrell, founder and manager of Top Flight Fund (TOPFX ), cares little about forecasting a company's business fortunes. Instead, he tracks changes actually going on -- such as earnings surprises or analysts' estimate revisions. He buys or sells a stock depending on how his proprietary model predicts what the investors' reactions will be to such changes. Right now his eye is on MetLife (MET ), a global provider of individual insurance, annuities, and investment products. It also offers group insurance, plus retirement and savings services, to corporations. Ferrell bought shares in part because in the past few weeks he has seen a lot of upgrades in analysts' estimates.
Ferrell figures MetLife is cheap on various measures, such as price to free cash flow, price to sales, and price to book value. "It is a large-cap value play that will jump in the near term," says Ferrell. Lately the shares have traded in a narrow band -- between 38 and 41; they're now at 39. In 2003, Top Flight Fund's first year, the fund gained 52.84% vs. 28.54% for the Standard & Poor's 500-stock index. In 2004 it was up 13% vs. the S&P's 10.8%. This year through Mar. 29, the fund is down 8% vs. an S&P drop of 3.8%. Another MetLife fan is Jimmy Bhullar of JP Morgan Chase (JPM ), which has done banking for MetLife, who rates it "overweight." The underlying growth in MetLife's business, he notes, continues higher than projected, resulting in MetLife's profits exceeding his estimates for the fourth consecutive quarter. It trades at 10.8 times his 2005 net forecast of $3.60 a share -- about 5% below its peers' ratio of 11.7. Bhullar thinks such a discount is unwarranted, based on MetLife's long-term potential growth rate of about 12%.
Note: Unless otherwise noted, neither the sources cited in Inside Wall Street nor their firms hold positions in the stocks under discussion. Similarly, they have no investment banking or other financial relationships with them.
By Gene G. Marcial
Before it's here, it's on the Bloomberg Terminal.
LEARN MORE