Despite disappointing February industrial production, the worst may be over for South Korea's economy. Optimism is rising on improving consumer demand. But a full-fledged recovery may not emerge until the second half of the year.
After a two-year slump because of the bursting of Korea's credit-card bubble in 2002, consumers are back in a spending mood. In the fourth quarter of 2004, private consumption rose 0.6%, up from 0.2% in the third quarter. The Bank of Korea's Composite Consumer Survey Index surged to 108 in the first quarter of 2005, from 87 in the prior period. It was the best reading since the final quarter of 2002. The report showed that Koreans feel much better about their financial condition today and for the coming months.
What's more, consumers have the wherewithal to keep shopping. February payrolls rose by 40,000, a sixth straight monthly gain. The household savings rate, which tumbled to 1.4% in 2002, climbed back to 4.8% last year. It's an indication that personal balance sheets are noticeably improved.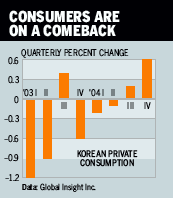 Nevertheless, the February industrial output data were a reminder that the country's recovery will be slow. Output fell 7.3% year on year, although the figures were distorted by the Lunar New Year holiday. For the first two months of 2005, output averaged a 3.2% year-on-year increase. That was below forecasts for a 4% to 5% rise and less than the 4.6% gain in December.
The problem is that export growth is decelerating and consumer spending has yet to boost factory output. The Ministry of Finance & Economy said exports will rebound in March, rising about 13% from a year ago, after a 6.7% gain in February.
Even so, private consumption is now the most important factor for the Korean outlook, since last year's 31% surge in exports will not be repeated in 2005. With signs that the Korean won will not continue to gain value rapidly against the U.S. dollar, the biggest obstacle to accelerating economic growth may be oil. Korea imports all of its crude oil, and higher prices hit both consumption and companies' profit margins.
By James Mehring in New York with Moon Ihlwan in Seoul
Before it's here, it's on the Bloomberg Terminal.
LEARN MORE