U.S.: Inflation Is Back On The Fed's Radar
With demand rising, businesses are finally able to pass along higher costs
Think of easy access to financial resources as the tinder that can set an economy on fire. Whether it's from easy bank credit or mortgage refinancings, more valuable equity, or cash coming from rising profits, money generates a lot of heat. Right now financial conditions are extremely accommodative. Not surprisingly, the U.S. economy is simmering along nicely, as consumers and businesses boost their spending.
But one result of solid growth is that inflationary pressures are building as businesses face rising costs. At the same time, the falling dollar is making imports more expensive and oil prices are up sharply. The question is: How fast must the Federal Reserve raise interest rates to assure that demand doesn't overheat, allowing rising costs to pass through into faster consumer inflation?
For the first time in years, inflation is officially back on the Fed's radar. In addition to another quarter-point hike in the overnight federal funds rate to 2.75% on Mar. 22, the Fed stated that "pressures on inflation have picked up in recent months and pricing power is more evident." That admission sent the bond market reeling. The 10-year Treasury yield jumped from 4.47% before the announcement to close at a nine-month high of 4.64%. The comment set a decidedly more hawkish tone, even though the Fed held to its belief that rates can continue to be raised at "a pace that is likely to be measured."
Such a stance, while highlighting the Fed's recognition of inflation, appears somewhat contradictory. One possible explanation is that policymakers view the recent pickup in inflation as temporary. Another possibility: The statement was a compromise between the inflation hawks and doves in order to avoid a split vote. The minutes of the meeting to be released on Apr. 12 should shed some light on the rationale.
One thing is clear: The Fed's new emphasis on inflation provides a litmus test for more aggressive policy moves. If pricing power continues to accelerate, then the Fed may have to hike the funds rate in half-point steps. Unless financial conditions are cooled off soon, strong demand will continue to use up whatever slack is left in both the labor markets and production capacity.
THAT'S WHY THE NEWEST DEVELOPMENT in the inflation outlook cannot be taken lightly: Cost pressures on U.S. businesses are rising at a pace not seen in many years. And those pressures are coming at a time when the forces that held back inflation in the late 1990s -- a restrictive Fed, rapid productivity growth, and a strong dollar -- have all changed direction and thus are exerting less resistance. Moreover, with overall demand, both in the U.S. and globally, growing hotter by several degrees during the past year, many businesses are having greater success in passing their higher costs along to their customers. So far, the pass-through effect is showing up mostly at the producer level. However, evidence of upward pressure on consumer prices is becoming more noticeable as well.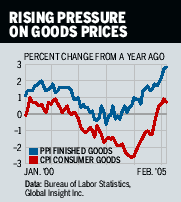 Most recently, the February consumer price index increased 0.4% from January, and even excluding energy and food, the core index jumped a larger-than-expected 0.3%. The yearly core inflation rate now stands at 2.4%, double the pace at this time last year. The faster inflation rises, the more the Fed has to lift interest rates in order to make policy less accommodative. That's because it is real, or inflation-adjusted, interest rates that determine how restrictive policy is.
THE COST SQUEEZE began with this year's round of increases in commodity prices generally and oil in particular. These price hikes are clearly feeding through the production pipeline. Through February, prices of core semi-finished goods, which exclude energy and food items, were rising at a yearly pace of more than 8%, a rate not seen in two decades. Further up the line, the yearly inflation rate for core finished goods has accelerated to 2.8%, the fastest pace since 1992.
And it's not just costlier materials that are squeezing business budgets. With productivity slowing down, unit labor costs have risen over the past three quarters at the fastest annual rate in almost four years, even though compensation growth has not yet begun to pick up.
The loss of past inflation restraints is showing up most clearly in goods prices. That's because low interest rates and rising materials costs have a big impact on goods demand and output. Plus, the prices of nonoil imported goods are rising. In February they were up 2.9% from a year ago, a percentage point faster than last year at this time. This acceleration has given domestic manufacturers some room to raise their own prices. So it's not surprising to see that over the past year the inflation rate for core consumer goods has gone up in lockstep with higher import prices and the increase in producer prices.
These latest trends ignore the impact of oil and gasoline prices, which will begin to show up in the March and April price indexes. Reflecting the surge in crude oil to more than $55 per barrel, the national average price for regular unleaded gasoline hit a record $2.11 on Mar. 21, up 10.7% in just the past four weeks.
To the extent that improving labor markets will keep demand strong, businesses will find it easier to pass along their higher energy costs into prices of their own products. The Fed's Mar. 22 statement said that costlier energy "has not notably fed through to core consumer prices." That means this summer, the Fed will be watching closely for any broader inflation impact.
WHAT CAN PREVENT the inflation cycle from feeding on itself? The wedge may have to come from the Fed itself, with broader removal of liquidity from the economy to blunt any rise in inflation expectations. That's why monetary policy, while always important to the outlook, is now even more crucial to maintaining the health of this expansion.
That's especially true because, up until Mar. 22, the bond market had not reacted in typical fashion to the Fed's rate hikes. In mid-March, bond yields were lower than they were last June when the Fed began its series of increases. Now, they are about even, sustaining the relatively cushy financial conditions that are stimulating growth.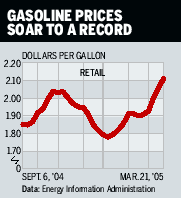 Take housing and consumer spending. Because mortgage rates are hovering near 6%, buyers still have leeway to bid up home prices. Rising real estate values have pumped up household wealth, leading to more consumer spending. Plus, cheap mortgages enable homeowners to tap into housing wealth through refinancings and home-equity loans. Mortgage rates would have to rise by a substantial amount, probably hitting close to 7%, before consumers stop using their homes to finance current spending.
To the Fed's credit, its latest policy statement accomplished what past rate hikes did not: It lifted long-term rates significantly. Higher borrowing costs at the long end will help to achieve the goal of tamping down the financial fires. Given the upward trend in pricing, the Fed clearly has more work to do. Perhaps a lot more.
By James C. Cooper & Kathleen Madigan
Before it's here, it's on the Bloomberg Terminal.
LEARN MORE