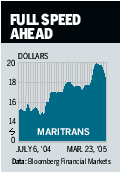 Maritrans (TUG ) has the wind at its back: A U.S. operator of tugs, tank barges, and oil tankers, it benefits from the Jones Act, which restricts point-to-point maritime shipping within U.S. waters to vessels that are U.S.-owned, -built, and have an American crew. What's more, the Oil Pollution Act of 1990 mandates that tankers must be double-hulled by the end of 2005. Natasha Boyden of investment firm Cantor Fitzgerald, who rates the stock, now at 18.10, a strong buy with a target of 24, says 33% of U.S. oil carriers will have to be scrapped by 2007. The high barriers to entry in the industry -- lofty steel prices, the Jones Act, and the high cost of new vessels -- means capacity will be constricted, she says. Maritrans, which has been converting its vessels into double hulls, will profit from the coming shortage, says Boyden. Maritrans ships from refineries in the Gulf of Mexico to Atlantic terminals, mainly in Florida, where it has a 20% share. It also does ``lightering'' -- unloading crude from large tankers (which can't ply shallow waters) into small vessels for delivery to ports in Delaware and other Eastern states. She expects Maritrans to earn $1.06 a share in 2005 and $1.35 in 2006. Brad Osleger, of investment outfit Deprince, Race & Zollo, which owns shares, says that by yearend 70% of its vessels will be double-hulled, as it continues to rebuild the rest.
Note: Unless otherwise noted, neither the sources cited in Inside Wall Street nor their firms hold positions in the stocks under discussion. Similarly, they have no investment banking or other financial relationships with them.
By Gene G. Marcial
Before it's here, it's on the Bloomberg Terminal.
LEARN MORE