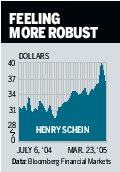 When Britain ordered Chiron (CHIR ) to halt output of its influenza vaccine last October, one company that got clobbered was Henry Schein (HSIC ), the world's top distributor of health-care goods -- and No. 1 in flu vaccines in the U.S. Schein supplies medicines and services to 400,000 doctors, dentists, and vets. Chiron's woes shaved 50 cents a share off Schein's fourth-quarter earnings. Its stock -- at 40 last April -- swooned to 28.80 by Oct. 19. But Schein has rallied, to 40 on Mar. 7, before easing to 36. ``Fourth-quarter earnings were impressive, as other products [especially dental] continued to grow rapidly,'' says John Maloney, president of M&R Capital Management, which owns shares. The flu issue is almost resolved. On Mar. 2, Britain lifted the Chiron suspension. The Food & Drug Administration is expected to follow suit by summer, says Maloney. He notes Schein has asked other makers -- Sanofi-Aventis (SNY ), ID Biomedical (IDBE ), MedImmune (MEDI ), and GlaxoSmithKline (GSK ) -- for vaccines in 2005 and 2006. Suey Wong of securities firm Robert W. Baird, which has done banking for Schein, sees profits of $2.03 a share on sales of $4.8 billion in 2005, and $2.31 on $5.2 billion in 2006, vs. 2004's $1.53. Wong rates Schein ``outperform,'' with a target of 46. He sees it as one of 2005's best performers.
Note: Unless otherwise noted, neither the sources cited in Inside Wall Street nor their firms hold positions in the stocks under discussion. Similarly, they have no investment banking or other financial relationships with them.
By Gene G. Marcial
Before it's here, it's on the Bloomberg Terminal.
LEARN MORE