Japan: Land Of The Slowly Rising Economy
There's a hint of improvement in Japan's economy. Revised data show growth in last year's fourth quarter, rather than a third consecutive contraction, and the latest monthly reports suggest the economy is gaining momentum in early 2005.
The government's second estimate of fourth-quarter real gross domestic product shows the economy grew at a 0.5% annual rate instead of shrinking 0.5% as originally reported. The revision reflected a faster pace of inventory growth, a positive sign for industrial production in coming months.
The stockbuilding was concentrated in industrial supplies and intermediate goods, a sign of improved demand for final products. Indeed, industrial production began the year with a 2.5% surge from December, the largest advance in nine months, and current industry projections imply a solid gain for the quarter, the first in nearly a year.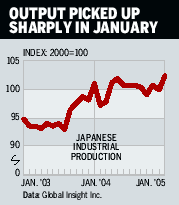 More important, the outlook for consumer spending is improving. Outlays by salaried workers' households jumped 8.2% in January, the best gain in nine months, and stronger job markets bode well for future demand. Employment soared by 470,000 in January, the biggest increase since 1992. Although the labor force grew by even more, resulting in a rise in unemployed workers, the jobless rate remained at a six-year low of 4.5%. Plus, the GDP data now show that workers' incomes rose 0.7% from a year earlier. That's a small rise, but the first in a year and a half, boosted by larger bonuses.
In addition, the mix of job gains between full- and part-time workers is improving, suggesting the structural shift toward cheaper, part-time workers is winding down, as companies gain confidence in the future. In the past year, the growth in part-time jobs has slowed sharply, while in January full-time positions increased 0.8% from a year ago, the first rise since 1997.
To be sure, Japan's road to recovery remains bumpy. A potential pothole this year could be the rising cost of raw materials, especially oil, which threatens to depress profits and capital spending, as well as export demand. However, given the positive surprises so far in 2005, the economy appears to be on much firmer ground now than it was this time last year.
Before it's here, it's on the Bloomberg Terminal.
LEARN MORE