U.S.: Time To Wave Goodbye To A "Measured" Pace
In an economy this strong, the Fed might need to hike rates faster
In the Federal Reserve's brave new world of policy transparency, words are often more important than deeds. Openly telegraphing the intention to change policy has become standard operating procedure at the Fed. That's why the news coming out of the policy meeting on Mar. 22 will not be the widely expected hike in interest rates but the language in the accompanying statement. Based on the way the economy is shaping up this year, the current policy message is bound to change -- if not at the upcoming meeting, then soon. Otherwise, the Fed risks being perceived as out of step with its long-term goal of containing inflation.
Since last May the markets have come to expect the Fed's statement to say that the bank plans to lift rates at a "measured" pace. That leisurely sounding phrase is widely interpreted to mean a quarter-point hike at each meeting until policymakers feel that rates have reached a neutral level that neither helps nor hinders the economy.
The drag on growth from surging oil prices might give the Fed some room to maintain its gradual pace. However, given the economy's surprising vigor and increasing signs that the inflation outlook may not be as tame as it appeared a few months ago, the current language locks the Fed into a commitment that could prove inappropriate, especially if demand and pricing power continue to be greater than expected.
Indeed, the economy's strength is partly the result of the Fed's own decision to accommodate growth for so long. Its nearly unprecedented easy policy has supplied liquidity to the financial markets and provided cheap mortgages for home buyers. Heavily indebted businesses have had a chance to refinance, which has lowered costs and generated more cash for investment.
Now that wages and salaries are growing at a healthy pace and corporations are awash in cash, the Fed must wean the economy off these cushy financial conditions. And in this new era of communication, the Fed will want to prepare the financial markets for the fact that policy may have to move faster than expected. The first step will be a change in the policy statement.
A NEW WORD ORDER from the Fed would most likely drop "measured" pace. The resulting more hawkish tone could jar the markets, at least temporarily. That's because a new statement would mean policymakers want the flexibility to lift rates by more than a quarter point, if necessary, based on what the economic numbers show.
Certainly, the latest data portray an economy with more muscle than the Fed probably anticipated at the start of the year. The bond market has taken notice and has pushed long-term rates sharply higher. Consumers keep shopping, even in the face of higher oil prices. Homebuilding remains strong. And businesses are busy, expanding production and building inventories.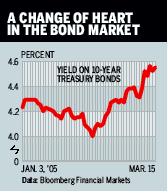 Retail sales rose 0.5% in February, and the revised January numbers show a sales gain of 0.3% instead of the 0.3% loss previously reported. Stronger job markets explain much of the upward climb in demand. But another factor is record consumer wealth. According to Fed data, household net worth -- total assets minus liabilities -- hit a high of $48.5 trillion at the end of 2004.
Businesses are also in better financial shape. And they are finally contributing to growth -- by much more than they have so far in this expansion. Companies boosted their inventories by a large 0.9% in January. Inventory-building should offset the worsening trade deficit that looks to be the only serious drag on the first-quarter economy. In February, homebuilders broke ground at an annual rate of 2.2 million new homes, a two-decade high. And industrial production advanced 0.3%, the fifth gain in a row, while factory output rose 0.5% for the third consecutive month.
From the Fed's viewpoint, robust industrial activity is a potential cause for concern. U.S. industry used 79.4% of its available capacity in February, up from 78% last September. At that pace, operating rates by early next year would be at a level typically associated with production constraints and inflationary pressures.
IN FACT, it is becoming increasingly apparent that two years of above-trend economic growth is reducing the slack in both the product and labor markets. Such a trend typically leads to a shift in inflation dynamics. In its own Beige Book summary of regional economic conditions, the Fed noted that increased cost pressures in the production pipeline are translating into increased pricing power. "A number of districts indicated greater ease in passing along price increases," the report said.
The bond market already senses a change in both economic reality and Fed urgency. Bond players seem to be coming around to the notion that the exceptionally low yields on the benchmark 10-year Treasury bond in recent months are out of sync with economic realities. Perceptions of growth, inflation, and Fed policy began to shift in early February amid a spate of strong data. Fed Chairman Alan Greenspan's musing during his February testimony that low bond yields amid Fed tightening were a "conundrum" also helped to shake the market out of its stupor.
From Feb. 9 to mid-March, the 10-year yield has risen from less than 4% to more than 4.5%, and fixed mortgage rates have jumped close to 6%. The rise may have further to go. Bond yields are still below the peak of nearly 4.9% hit last June. With gasoline prices rising rapidly -- nearly touching last year's record of $2.06 per gallon on Mar. 14 -- the March and April price indexes will not look good. Even excluding energy and food, yearly core inflation rates at both producer and consumer levels are on an upward-creeping course.
CONSEQUENTLY, THE FED may also have to reevaluate its statement on the risks for future inflation. Since last May policymakers have said that the upside and downside risks to price stability have been "roughly equal." That balance may be shifting, to a large extent, because the Fed's exceptionally low interest rates provided a key support to overall demand. And strong demand is why economic slack is dwindling.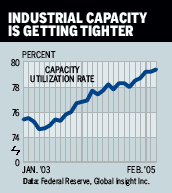 Moreover, unit labor costs, a key determinant of inflation, are starting to pick up now that productivity growth has slowed. In the final three quarters of last year unit costs rose at a 2.4% annual rate, the fastest clip in nearly four years. The pressure to raise prices to at least match that higher pace of costs will be especially heavy in service industries, where labor is the dominant cost and where pricing power tends to be greater.
To be sure, inflation expectations remain low, and that's a big reason why bond yields have not shot up. However, it's important to remember that expectations are formed out of actual inflation experience. If actual inflation readings continue to rise, so will expectations.
The new question confronting the Fed is this: How fast should it take policy to neutral? Recent data on growth and inflation hint that the central bank is moving too slowly. If that's true, then given the lags inherent in policy adjustments and the Fed's desire to act preemptively, any change in the policymakers' intentions will need to come soon.
By James C. Cooper & Kathleen Madigan
Before it's here, it's on the Bloomberg Terminal.
LEARN MORE