Sweet Or Salty With Senomyx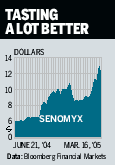 When CitiGroup (C ) took biotech outfit Senomyx (SNMX ) public on June 21, 2004, at 6 a share, there was scant interest. By Aug. 12 it had slipped to 5.65. But investors should have paid more attention: The stock has since doubled, to 11.98. Senomyx has developed a taste-receptor technology that intensifies salty or sweet flavors. Since last September, Nestlé (NSRGY ), Coca-Cola (KO ), Campbell Soup (CPB ), and Kraft Foods (KFT ) have signed up to use Senomyx compounds. "The ability to reduce sugar, salt, or artificial flavoring without sacrificing taste is a huge opportunity in this health-conscious society," says Robin Manners West of New Mexico's State Investment Council, which has purchased shares. Each compound, she says, works on a different flavor, so foodmakers can calculate how much to cut back on sugar, salt, or monosodium glutamate. On Mar. 3 two of Senomyx' enhancers got approval from the Flavor & Extract Manufacturers Assn., typically endorsed by the Food & Drug Administration, which dubbed them "generally regarded safe." These are the only approvals Senomyx needs. It expects its first sales in the first half of 2006, notes Steve Cohen of investment outfit Kellner DiLeo Cohen, which owns shares. He figures Senomyx will start making money only in 2007, given Senomyx' marketing timetable. He expects the company to earn 77 cents a share in 2007 and $1.50 to $2 in 2008. His 12-month price target: 20.
Note: Unless otherwise noted, neither the sources cited in Inside Wall Street nor their firms hold positions in the stocks under discussion. Similarly, they have no investment banking or other financial relationships with them.
By Gene G. Marcial
Before it's here, it's on the Bloomberg Terminal.
LEARN MORE