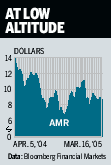 A value player who looks for well-known but depressed stocks in troubled industries, Vince Carino winds up with some out-of-favor companies. One such is AMR (AMR), parent of American Airlines (AMR ), the world's largest carrier. Its stock, which soared as high as 40 in 2003, has plunged to 8.65 -- down from 13.93 on Apr. 5, 2004. Airline stocks have dived some 25% this year, mainly because of high fuel prices. But Carino, chief of equity investments at Fidelity National Financial (FNF ), which has bought shares, is convinced AMR will hit 50 in two years. Yes, 50. He sees AMR boosting fares and sales amid reviving traffic and contracting capacity. To offset fuel increases, AMR and Northwest (NWAC ) upped fares on Mar. 11 for most flights in the U.S. and Canada -- by as much as $20 for a round trip -- the second increase in two weeks. Other airlines quickly followed suit. Carino says the top and bottom lines he sees for AMR -- adjusted for competition and based on fare hikes and cost-cutting -- are extraordinary and far exceed the Street's forecasts. Carino expects AMR to be still in the red in 2005, on revenues of $20 billion, but should earn $460 million, or $2.80 a share, in 2006 on sales of $23 billion and $1.7 billion, or $10 a share, in 2007, on $25 billion. Carino notes that AMR traffic in the past two months has risen 5.3%, to 20.17 billion revenue passenger miles, up from 19.6 billion a year earlier, and average seat occupancy has leaped from 69% to 73%. Susan Donofrio of investment firm Fulcrum Global Partners (she owns shares), rates AMR a buy, with a 12-month target of 17. She expects AMR to ask its employees for further wage cuts, and to increase revenues by adding airplane seats and revving up the international business.
Note: Unless otherwise noted, neither the sources cited in Inside Wall Street nor their firms hold positions in the stocks under discussion. Similarly, they have no investment banking or other financial relationships with them.
By Gene G. Marcial
Before it's here, it's on the Bloomberg Terminal.
LEARN MORE