Coming In Clearer At Time Warner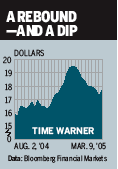 Is the old Time Warner (TWX ) back? Some pros think so -- although the stock has yet to show it. Shares climbed from 15 in August to nearly 20 in December, then slipped to 17.53 on Mar. 9. "But great things are happening that spell growth," says Benjamin Segal of Winchester Capital Group, which has bought shares.
After settling a legal tussle with the Justice Dept. for $210 million and dealing with the Securities & Exchange Commission over America Online's accounting ills, Time Warner "has achieved stability -- and the financial flexibility to grow," he notes. And it has slashed debt. Once burdened with huge financial woes, Time is producing lots of free cash flow, which Segal sees rising from $4.5 billion in 2005 to $5.2 billion in 2006, up from $3.9 billion in 2004. Earnings before interest, taxes, depreciation, and amortization (EBITDA) should jump from $10.7 billion to $11.5 billion in 2006, he adds. What's restraining the stock, he says, is worry that Time may be overpaying with its $17 billion bid for troubled cable outfit Adelphia Communications (ADELQ ). But Segal believes a deal will help Time expand its cable business. Segal sees Time merging the two cable properties and taking the unit public. This will become Time's vehicle to acquire other cable outfits, he adds.
"For us, Time's rich cable properties enhance its allure as a turnaround play," says Lewis Rabinowitz, a portfolio manager at C.E. Unterberg, Towbin, which owns shares. William Drewry of Credit Suisse First Boston, which has done business with Time Warner, figures Time will earn 76 cents a share in 2005, up from 69 cents in 2004. He rates it outperform.
Note: Unless otherwise noted, neither the sources cited in Inside Wall Street nor their firms hold positions in the stocks under discussion. Similarly, they have no investment banking or other financial relationships with them.
By Gene G. Marcial
Before it's here, it's on the Bloomberg Terminal.
LEARN MORE