U.S.: Optimistic Businesses Are Revving Up For Growth
Companies should face less uncertainty and more demand this year
Corporate America is back in its groove, and that could shake up the whole economic outlook for 2005. For the first three years after the recession ended, businesses' plans for expansion and hiring were beaten back by one new source of uncertainty after another, whether it was terrorism fears, financial scandals, a meandering stock market, or war. All this made the business sector an undependable contributor to economic growth. Not anymore.
Evidence of a corporate renaissance is growing. Chief executives are the most optimistic in years. And why shouldn't they be? Demand continues to grow strongly. Many companies are enjoying increased pricing power. And financial resources are abundant: Internally, profits and cash flow remain strong, and externally, credit markets offer cheap long-term financing, while lending terms and conditions at banks are the easiest in years.
This combustible mix appears to have reached a flash point, especially regarding capital spending. The U.S. Bureau of Economic Analysis upgraded its initial estimate of fourth-quarter growth in real gross domestic product from 3.1% to 3.8%, with increased business investment in new buildings and equipment accounting for a little less than half of the upward revision. The data now show that company outlays for new equipment grew in the second half of last year at the fastest two-quarter pace since 1997.
Perhaps the best news for 2005, though, stems from the historically tight correlation between capital spending and hiring. It should not be surprising that hiring picked up substantially last year as companies began to expand. Strong business outlays imply a continuation of job growth in 2005 that will generate a healthy pace of income to help support consumer spending.
Consumer resilience along with the corporate sector's new vibe is punching up demand. That's a key reason the economy has shown no loss of momentum, either late last year or early this year. Most economists expected some degree of slowing in the economy pace, but that's not happening. Growth appears to be locked into a 4% track. And as the year progresses, growth at that clip could well alter current prospects for inflation, bond yields, and the speed at which the Federal Reserve keeps increasing interest rates.
OPTIMISM IN THE BOARDROOM continues to grow, says the Business Roundtable's March CEO Economic Outlook Survey. The executives' upbeat expectations for sales, capital spending, and hiring in the six months ahead pushed the CEO Economic Outlook Index to the highest level of the expansion, implying that they believe the economy is on a solid growth path .
Notably, capital-spending plans are up sharply, with 60% of the companies expecting to increase their outlays in the next six months. That's better than the 50% response in December and 43% this time last year.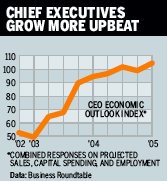 Government data support the notion that the uptrend in business spending continues to gain momentum in early 2005. January orders for capital goods, excluding the ups and downs that the aircraft sector can cause, rose strongly for the second month in a row. Moreover, the two-month increase in shipments was the largest since the Census Bureau began keeping comparable records in 1992.
Interestingly, the yearend expiration of the bonus depreciation tax benefit, which was expected to boost outlays late last year at the expense of spending in early 2005, had no major impact. January orders and shipments suggest that capital spending on equipment in the first quarter could match or even exceed the rapid fourth-quarter advance.
COMPANIES ARE LOOKING to expand their operations, not just replace old computers and peripherals. In fact, price-adjusted outlays for information-processing gear, half of all equipment spending, grew more slowly over the course of 2004 than they did in 2003.
Taking up the slack was a surge in spending on basic machinery and other gear such as vehicles and low-tech office equipment. In fact, during the past year, spending on the low-tech side of capital equipment has grown 15%, twice its pace during the late 1990s. And that's better than the yearly growth in high-tech gear.
Companies are also starting to construct plants and office buildings to house their new equipment and workers. After free falling from 2001 to 2003, business construction outlays are rising strongly, actually making a small contribution to overall economic growth last year. The boost should be much greater in 2005. In January, business construction was up a robust 10.1% from the previous year, with the biggest gains showing up in the manufacturing, lodging, and communications sectors.
AND EVEN AS capital spending powers its way into the year, businesses are surely heartened to see no signs that consumer spending is fading. The reason is clear: Some 2.2 million more people have jobs now than a year ago, and the added income is generating more spending. Adjusting for the huge Microsoft Corp. (MSFT ) dividend payment in December, personal income posted solid monthly gains of 0.6% in December and 0.5% in January.
But the real story is in wages and salaries, which make up nearly three-fifths of total earnings. In January, basic wage income grew 5.8% from the previous year, the largest yearly gain in four years and twice the rate of inflation. Given further improvement in job market conditions, as suggested by fewer workers claiming jobless benefits, a jump in help-wanted ads, and consumer surveys showing better job opportunities, incomes should continue to grow at a healthy clip in coming months.
A wide range of industries is benefiting from the relentless strength in consumer and business demand, but perhaps none more than the manufacturing sector. Factory output rose strongly in December and January, as companies continue to use a greater share of their production capacity. And in February the nation's purchasing managers said that industrial activity remained at a high level. The purchasing managers' overall index dipped from 56.4% in January to 55.3% in February, according to the Institute for Supply Management, but those levels are consistent with economic growth greater than 4%, says the ISM.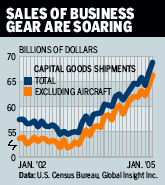 If economic growth continues to surprise on the high side of expectations, it will have important consequences. First, it would mean that the economy is using up whatever slack exists in production capacity and the labor pool at a faster rate than expected. Second, strong growth would bolster gains in pricing power already evident in many industries. And third, it would give the Fed far less leeway to move interest rates up at its recent leisurely pace.
There is no doubt that the animal spirits of Corporate America are stirring unlike any time since the go-go years of the late 1990s. That optimism will boost the economy's performance this year. But the Fed will be watching closely to make sure that this new ebullience doesn't allow inflation to spiral out of control.
By James C. Cooper & Kathleen Madigan
Before it's here, it's on the Bloomberg Terminal.
LEARN MORE