The Euro Zone: The Rebound Eases Into First Gear
The aftershocks from last year's twin surge in the euro and oil prices hit the economy of the 12-nation euro zone hard in the second half. But while growth won't be easy, the worst appears to be over, and the stage is set for at least a modest rebound in 2005.
Eurostat's Mar. 2 report on real gross domestic product shows that the euro zone grew only 0.2% in the fourth quarter, or 0.6% at an annual rate, while third-quarter growth was revised slightly lower. Germany, Italy, and the Netherlands posted outright declines last quarter. But based on the breakdown of GDP, the news is not quite as dismal it appears at first glance.
The drag from weaker exports continued, but the surprise was that domestic demand from both consumers and businesses in the fourth quarter was more resilient than analysts had feared. Consumer spending increased at a 1.8% annual rate, much stronger than in the second and third quarters, and business investment jumped 3.9%, the largest advance in nearly four years. France and Spain racked up solid demand-led gains in GDP, while even in Germany, where GDP declined 0.9%, consumer spending posted a 1% advance.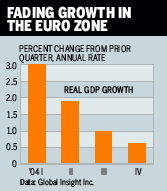 First-quarter signs of continued increases in spending look hopeful. French consumers boosted their buying by more than expected in January. More broadly, credit growth remains strong, and consumer confidence is holding up well. Even in Italy, where fourth-quarter GDP fell an annualized 1.2%, January tax cuts boosted February confidence.
Much of the fourth-quarter sag in GDP resulted from a slowdown in inventory growth, as businesses cut their stockpiles after the spring and summer falloff in demand. With demand rebounding, production is now in a better position to regain its footing. German and Italian factory orders have strengthened, but industry still faces headwinds from the strong euro and the recent jump in oil prices back over $50 per barrel.
Most economists believe that euro zone growth in 2005 will plod along at last year's 1.7% pace. That's not great, but it's a speedup from last year's second half and a far cry from the recession danger implied by last quarter's top-line GDP number.
By James C. Cooper & Kathleen Madigan
Before it's here, it's on the Bloomberg Terminal.
LEARN MORE