The percentage of Asian Americans choosing self-employment is dropping much faster than the rate for the overall population, according to a December, 2004, study sponsored by the Small Business Administration's Office of Advocacy and written by economist Robert Fairlie of the University of California at Santa Cruz.
Between 1994 and 2003 the percentage of Asian Americans who were self-employed dropped nearly two percentage points, to 10.4% from 12.2%. During that time the overall share of Americans who were their own bosses declined by only half a point, to 9.8%.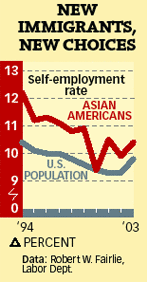 Why is the self-employment rate among Asian Americans dropping so quickly? First, higher education usually translates into a greater chance of self-employment. Better-educated Asian immigrants may see owning their own business as a stepping stone to economic health, says Wayne State University economics professor Timothy Bates. But the recent waves of Chinese and Filipino immigrants are, on average, less well-educated than the Koreans and Japanese who made up a larger share of Asian immigrants in the past.
Second, once they've assimilated, immigrants often go to work for someone else. And children of self-employed immigrants are less likely to follow in their parents' footsteps. Over time, as U.S.-born Asians make up a larger portion of the Asian American population, the self-employment rate should continue to decline.
By James Mehring
Before it's here, it's on the Bloomberg Terminal.
LEARN MORE