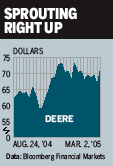 An avid outdoorsman who backpacks in the Utah mountains, 48-year-old Dave Young is called laid-back and easygoing by his friends. But as president and founder of investment firm Paragon Capital Management, there's nothing relaxed about his approach. "We're active, opportunistic -- and against the conventional buy-and-hold investing style," he says. So Paragon stays just four weeks in most of its positions. "We expect to get rewarded within that time -- and then get out," says Young. Since forming Paragon in January, 1998, his portfolio has gained 272% -- compared with a 37% rise for the Standard & Poor's 500-stock index. The Paragon team eyes an array of data, including the ratio of growth to price-earnings, stock price to cash flow, stock repurchases, dividend yield, and "earnings surprises." Young monitors about 100 factors to pick up subtle shifts in the flow of institutional money. Right now, he sees a shift to large-cap growth and value stocks -- away from small-cap value stocks where he has been for 18 months. Deere (DE ), the global No. 1 in farm machinery and also big in construction gear, is among Young's recent buys. He sees institutions snapping up Deere's stodgy stock,which has not moved much -- although it is up from 62 in August to 71 on Mar. 2. Young expects a jump in the next few weeks. In its first quarter, ended Jan. 31, Deere posted earnings of 89 cents a share -- on an 18% jump in sales, to $4.1 billion, up from 68 cents on $3. 4 billion a year ago. Andrew Casey of Prudential Equity Group, who rates Deere "accumulate" for the long term, expects earnings of $6.10 in 2005 and $6.75 in 2006, up from $5.56 in 2004. His 12-month price target: 83 a share.
Note: Unless otherwise noted, neither the sources cited in Inside Wall Street nor their firms hold positions in the stocks under discussion. Similarly, they have no investment banking or other financial relationships with them.
By Gene G. Marcial
Before it's here, it's on the Bloomberg Terminal.
LEARN MORE